An incoming Trump administration promising big changes lured one former street performer out of retirement and back to his stage for an encore.
Vowing to "make American street theatre great again," performer Jeff Grubler resurfaced to create the Trump Dis-Organization, a political satire group that has been performing dances and skits on the streets of San Francisco.
Their backdrop: groups protesting President Donald Trump for the last few months.
Laughter rang out at Saturday's Tax March in San Francisco as protesters gathered around to hear Grubler crack jokes at Trump's expense.
"Every cent donated will help Donald Trump pay for more portraits of himself!" Grubler said to an applauding crowd.
The jokes flow for Grubler, who has had a decade of practice roasting conservative administrations.
Grubler said he first began performing in the late 1990s. However, news surrounding the Iraq War in 2003, when President George W. Bush was in the White House, drove more performers to the streets, prompting the demonstrators to form an official group, named Ronald Reagan Home for the Criminally Insane.
In the years that followed, the group could be found trolling Wall Street, Bush, former Vice President Dick Cheney and any number of hot-button issues that sparked protests during the late period of the Reagan era.
"After Trump was elected, we knew there was going to be a lot of difficult times ahead," Grubler said. But this time, he said, the group's performances might actually get a reaction from the commander in chief.
"All these presidents, CEOs, corporations — they're all bothered when they are ridiculed — and humor is so powerful — but they don't usually show it," Grubler said. "But [Trump] goes crazy when he's made fun of, when he's ridiculed, and so it's beautiful to actually get a response to it even if he's not responding to us directly."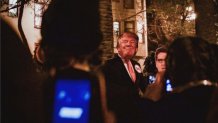 Designed to provide comical relief to those struggling with the agenda of the new administration, one member cast as the Trump Wall said it is important to keep the dialogue open.
"I think a lot of us want to turn away and forget about it," said Edna Miroslava Raia, a trained clown, mime and comedian. "But we can't because all of these decisions affect everyone."
Under the group's scrutiny currently are increased deportations, proposals for a Border Wall along the U.S.-Mexico border, and even senate confirmation hearings. Grubler's latest skit zeroed in on the announcement that PBS was not slated to receive federal funding.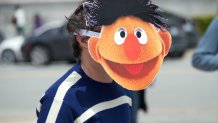 Grubler said making light out of the serious topics is no easy feat and planning lineups that feature everyone from Elmo to Betsy Devos keeps him up at night, cutting and gluing together the performers' costumes.
The effort is worth it, he said, for a hearty laugh.
With no funding or structure, Grubler says the group is about getting their messages out while having fun.
"Our mission is to bring back the art of street theatre," Grubler said. "People need to laugh so I'm glad we can play a small role in that."