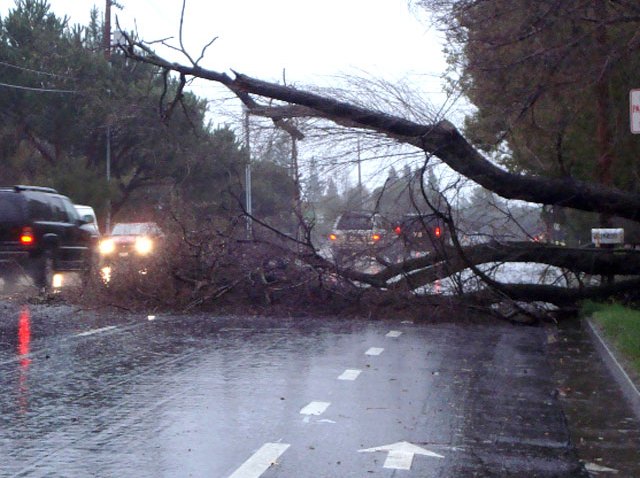 We've been hearing about it for at least a week and feeling it for a few days. Now the brunt of a wet, windy winter storm system is upon us.

The fourth in a series of five storms hitting all this week, and it could be the worst so far. Rain started overnight and will be moving through the Bay Area all day in what NBC Bay Area's weather team says is a classic El Nino pattern.

Intense rainfall will pound the region all day Wednesday. Hail, lightning and thunder will be moving through as well. Heavy winds with gusts of up to 65 mph will not be unusual but sustained winds will be more in the 30 mph range. That's still enough to topple trees and power lines.

The strongest front of the storm system will be sticking around until at least noon. A winter storm warning is in effect, as well as high wind and high surf warnings. A coastal flood watch is also in effect. By afternoon, we may see clear skies and a repeat of several rainbows found around the Bay Area Tuesday.
As the widespread rain tapers off later in the morning, there's still a threat of more thunder during the day, some cells may possibly turn severe. Hail and briefly-damaging wind gusts are possible with these stronger individual thunderstorm cells. It wouldn't be totally out of the question to see a brief waterspout or funnel cloud either.
"You have a very strong jet aimed in to our south," Rob Mayeda explained. The Bay Area and Central California are setting in a favorable region (left front quadrant of the jet stream) for rapid thunderstorm development and strengthening. This coupled with directional shear aloft may lead to some rotating severe thunderstorms. "This is a parameter we watch for between your 'average' thunderstorm and one that could turn 'severe."
Residents and merchants in the Marin County town of San Anselmo are hoping this deluge doesn't mean a repeat of the New Year's Day storm of 2006, when the creek overspilled its banks, flooded streets and ruined shops. Business owners started piling sand bags outside shops as early as Monday in hopes of warding off floodwaters.

Experts are watching the creek level rapidly rise. By 9 a.m., San Anselmo Creek had risen by about 10 feet and was just a foot shy of flood stage.
Now that the ground is well saturated from storms earlier in the week, both Craig Herrera and Rob Mayeda point out that even moderate rainfall rates can cause more localized flooding and wind gusts are now more likely to cause tree damage and some power outages.
Mudslides are a real danger today as the ground is already saturated from days of rainfall. Experts are keeping a close eye on areas hit by wildfires, including the Oakland Hills and Santa Cruz Mountains. Thise areas and others burned over the summer are particularly vulnerable because the ground has less vegetation to help hold it together.
PG&E crews worked into the night Tuesday, restoring power to tens of thousands of Bay Area customers who experienced storm-related outages. Customers in coastal areas of the Bay Area should prepare for the possibility of being without power for a couple days as the stormy weather continues to pound the region, PG&E spokesman Joe Molica told Bay City News. The coastal and wooded areas pose the biggest challenge for repair crews because of high winds and the concentration of trees. Call PG&E at 800-743-5002 to report an outage.

Rain in the lowlands means snow in the Sierra. This system could mean two to four feet of snow in the Lake Tahoe area. That's good news for resorts and the people who love them.

It's a common phrase but must be repeated: drive with caution during this storm. Well before the sun came up, there had already been a flurry of crashes, spinouts and fender benders.
This messy storm will stick around into the late afternoon commute. Scattered showers will be a nice break as the system moves out later today.