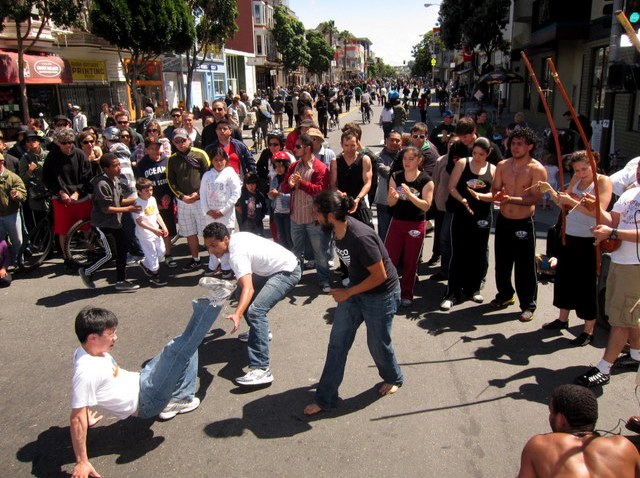 For the third year running, tens of thousands hit the streets of San Francisco's Mission District for Sunday Streets, where blocks of major roadways are closed to traffic and opened up to pedestrians, bicyclists and families.
Threats of showers didn't stop the masses from making their way out of their houses and into the streets, for what ended up being a mostly sunny, windy day. Some estimate as many as 25,000 people participated Sunday.
In years past, the Mission Route included Dolores Park and Garfield Square, but this year it focused solely on the streets of Valencia and 24th.

Organizers wisely extended the hours from 10 a.m. - 2 p.m. the first year to 11 a.m. - 4 p.m. this year -- perhaps addressing a common complaint when Sunday Streets first rolled out in 2009, as many people are just getting going on a Sunday afternoon after a late Saturday night.
This year, while walking down Valencia Street, there were many more groups of performers set up, playing music, dancing or giving demonstrations. Groups included attention-grabbing capoeira showdowns, hip-hop break-dancing battles, quirky children's circus sideshows and giant hula hooping parties.
Some stores got into the groove, putting tables out on the street offering free beverages or showing off their wares. There were also groups with tents set up along the route.
To catch Sunday Streets this year, head over to the Bayview on June 12th, the Great Highway on July 10th, Civic Center/Tenderloin on August 14th, or the Western Addition on September 11th.
The Mission District is the one lucky neighborhood that will be graced with Sunday Streets' presence twice this year, with October 23rd finishing off the year for the event organizers. See you there!