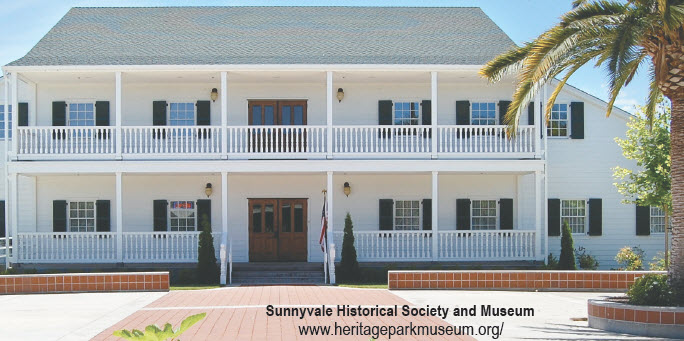 This weekend the city of Sunnyvale is celebrating its transformation from a small agricultural town to a Silicon Valley high-tech city with more than 130,000 residents with 100 years of history.
As part of the Centennial Celebration, the Sunnyvale Historical Society and the city are throwing a parade and two-day festival that begins Saturday morning at the orchard fields and park area near the Sunnyvale Heritage Park Museum at 570 E. Remington Drive.
Organized with the entire community's interest in mind, "whether you are 92 and have lived in Sunnyvale your whole life or are 5 years old" or a new resident moving into the area, society founding director Laura Babcock said the free festivities were made "so every resident could participate."
With more than 18-months of planning, the historical society took on the challenge to re-create old-town Sunnyvale for its 100th birthday. The town, which became incorporated in 1912, had been called Sunnyvale since 1901 and prior to the turn of the century it was known as Murphy Station, Babcock said.
Exhibits at this weekend's festival will include a recreation of the Sunnyvale General Store, which in its time, served also as a post office and drug store. The museum has preserved the original counters from the shop and will incorporate original scales and cash registers to bring residents back to early 20th century consumer life.
With the city not able to budget for a centennial party, the historical society rounded up 300 volunteers and worked to fundraise for the century celebration, Babcock said.
"As official keepers of Sunnyvale history, we took the lead in doing it," she said.
The parade has attracted 1,200 contingents that will meander through Sunnyvale streets Saturday morning at 10 a.m. before returning to the Historical Society's museum grounds where exhibits, booths, food, family activities and more will be offered by community businesses, groups and organizations.
The celebration continues Sunday with city officials making their annual state of the city address and presenting community awards.
Music and dancing will be ongoing throughout the festival with hopes to connect residents to their century of history.
"We've caught the interest of the entire city," Babcock said.
Here are some of the offerings:
hay rides around the Heritage Orchard
a Murphy Party covered wagon interpretation
a 1912 General Store (selling everything from penny candy to commemorative shot glasses!)
historical bike tour and scavenger hunt
blacksmith demonstration by Fiddle Around Forge
agricultural and electronic tools demonstrations
children's games (marbles, horseshoes, bean bag toss)
a whiskers contest (grow out those turn of the century mustaches, men!)
interactive time capsule making
music and dance from throughout the century
scarecrows
turn of the century Sunnyvale downtown and model train diorama
local aviation exhibit and raffle for an Airship Ventures Zeppelin ride for two
a Centennial Parade (Saturday)
Centennial swing dance with live music (Saturday night)
State of the City address and community awards presentation (Sunday)
For more information about the celebration, visit sunnyvale100.com.

Copyright BAYCN - Bay City News