Five giant nylon bunny rabbits will grace the lawn of San Francisco's Civic Center Plaza this month as part of a traveling art installation.
A ceremony Tuesday morning kicked off the show, which runs through April 25. Reactions from passersby included comments such as, "I think it's totally crazy," and "You can't miss it, that's for sure."
Australian artist Amanda Parer, who created the 23-foot-tall glowing bunnies, calls her work "Intrude" and says on her website her art is about "changing usual places." In Parer's native Australia, rabbits have caused a great imbalance in the country's delicate ecosystem since the animals were introduced in 1788.
The exhibit has been traveling around the country since the end of February and has already been on display in 19 locations, including Washington, D.C. The bunnies will also head to New York, Houston, Los Angeles and Denver.
San Francisco Arts Commission spokeswoman Kate Patterson said the art will be taking over public space in the plaza so all can see the illuminated animals 24 hours a day, seven days a week.
The artwork loan and installation cost $84,000, Patterson said. The city paid $54,000 trhough the Arts Commission, $25,000 came through the Public Art Trust, a voluntary donation from private development," and $4,5000 came from private donations.
Patterson said the project was initiated by Mayor Ed Lee, who sought public art that was "family friendly" and would appeal to a broad audience.
Arts Commission Project Manager Jill Manton researched artists for months and was tipped off to the project by a colleague. Patterson said it fit all of the mayor's criteria.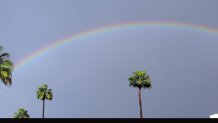 NBC Bay Area's Joe Rosato Jr. contributed to this report.