A 47-year-old Santa Rosa man has been arrested on felony hit-and-run and DUI charges after he allegedly struck a 2-year-old near the Coddingtown Mall and then fled the scene Thursday afternoon, police said.
Witnesses, many of whom called 911 to report the incident, told police that the vehicle was a white GMC van. Investigators located it just a few yards from the scene.
The suspect, Hector Cabrales Larios, was located in his nearby apartment in the 1500 block of Range Avenue. An accident investigator with the Santa Rosa Police Department recognized his van's description from a previous hit-and-run which occurred in the same area about a week prior to Thursday's incident, authorities said.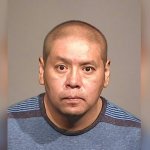 Larios, who has four prior DUI convictions, was believed to be under the influence of alcohol at the time of the collision with the child.
The female toddler, who was taken to the children's hospital in Oakland, suffered serious injuries but is expected to recover. Witnesses said the girl, who was with her grandmother, ran into the street unexpectedly where she was struck near a crosswalk.
"We believe at this point that the child was with an adult," said Josh Ludtke, a sergeant with the Santa Rosa Police Department. "The child ran towards the street, unbeknownst to the adult, and was struck by a vehicle and the vehicle continued on and didn't stop."
Anyone with information related to this investigation is asked to contact Officer Jeff Adams at 707-543-3636.