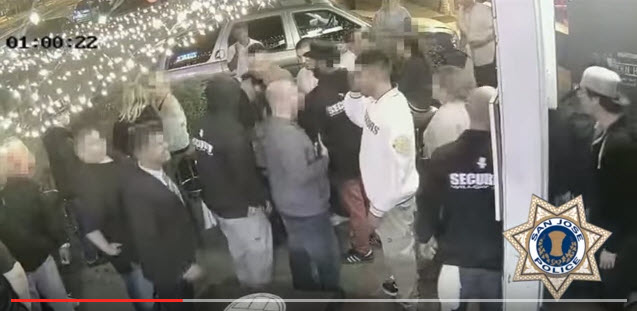 Police released video Thursday of a suspect wanted for a November stabbing outside a bar in San Jose's Willow Glen neighborhood.
The suspect and victim bumped into each other at Willow Den Bar located at 803 Lincoln Ave. around 1 a.m. on Nov. 15, police Sgt. Enrique Garcia said.
The suspect confronted the victim and ended up in an argument that continued outside on a sidewalk before the dispute escalated into a fight, Garcia said.
The suspect pulled out a knife and stabbed the victim at least once before he fled, according to Garcia.
The victim was treated at a hospital, Garcia said.
Police released a nearly three-minute video of the incident from the bar's security camera, which shows security guards trying to split up the suspect and victim, who walk away from the business and exchange words while walking on the street.
The video ends as the suspect is seen chasing down the victim on the road.
The suspect is described as a Hispanic man between 25 and 30 years old, standing about 5 feet 10 inches tall and weighing around 180 pounds with a scar either on the back or top of his head.
The alleged stabber wore a white T-shirt, blue True Religion jeans and white shoes.
Anyone with information on the case is asked to call police Detective John Vandenbroeck at (408) 277-3835. Those who wish to remain anonymous may call Silicon Valley Crime Stoppers at (408) 947-7867.

Copyright BAYCN - Bay City News