A driver arrested Wednesday after an East Bay car-hitting spree where police say he seemed to intentionally strike dozens of cars and a pregnant woman was identified Thursday by Oakland police as Darrell C. Blackmon, 37, of Berkeley.
Blackmon, who has a history of damaging other people's vehicles and has also served a prison term for robbery, arrested on suspicion of assault with a deadly weapon, erratic driving and brandishing a firearm. As of Thursday, the Alameda County District Attorney was reviewing the case.
So far police have counted more than a dozen vehicles driven by civilians that were deliberately struck by the Mitsubishi sedan that Blackmon was driving beginning at 8:30 a.m., according to the Oakland Tribune. Oakland police say that he struck at least two patrol cars, and a pregnant woman, too, before being arrested an hour later in Berkeley.
An update on the condition of those struck was not immediately available, though on Wednesday, police said the woman wasn't injured too badly. And efforts to reach Blackmon, who was in custody, were not immediately successful.
The Tribune reported at least seven motorists said a gun was pointed at them, authorities said. According to the Alameda County District Attorney, Blackmon was convicted last year of felony vandalism and placed on probation for using a baseball bat to damage dozens of parked cars in Berkeley.
At a news conference on Wednesday, Oakland Police Officer Johnna Watson said that as many as 30 cars might have been hit, and she urged victims to call authorities to report if they believe they were affected during the two-city rampage from Oakland to Berkeley.
Uber driver Durea Tracy was one of those affected. He told NBC Bay Area he saw the suspect "coming down this street pretty hard," when the Mitsubishi slammed into his brand new Chevy. He wasn't injured, though, and said lightly that it "could have been worse."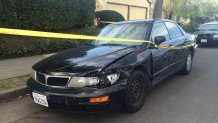 55yo #Berkeley suspect coming in and out of police SUV, questioned by investigators. Police still looking for gun. pic.twitter.com/05CMq5JQPG

— Stephanie Chuang (@StephChuang) February 10, 2016
.@oaklandpoliceca: driver was arrested in #Berkeley after bean bag gun deployed. He is 55yo with known addresses in #Berkeley & #SanPablo

— Stephanie Chuang (@StephChuang) February 10, 2016
OPD, BPD, CHP & ACSO arrest armed driver responsible for multiple assaults with a vehicle on officer & citizens. pic.twitter.com/cMEnqvE9K7

— Oakland Police Dept. (@oaklandpoliceca) February 10, 2016
#OaklandPolice and Berkeley Police taking suspect into custody in City of Berkeley. Vehicle is recovered, driver safely detained.

— Lt. Chris Bolton (@OPDChris) February 10, 2016
#OaklandPolice handling a critical incident spanning multiple locations. @CHPoakland assisting. More details to follow

— Lt. Chris Bolton (@OPDChris) February 10, 2016
#OaklandPolice looking for black or gray 4 door Mitsubishi, last 3 license plate digits of 204. Last seen in West Oakland, call 911 if seen

— Lt. Chris Bolton (@OPDChris) February 10, 2016
#OaklandPolice located vehicle & in pursuit. Reports of vehicle intentionally hitting civilian & police vehicles, driver reportedly armed

— Lt. Chris Bolton (@OPDChris) February 10, 2016
#OaklandPolice terminated pursuit of felony vehicle due to public safety concern. Vehicle has fled Oakland & officers no longer in pursuit

— Lt. Chris Bolton (@OPDChris) February 10, 2016
#NEW: #Oakland PD says man armed with handgun drove into several cars,pointed gun at them. One victim=pregnant woman. "Extremely dangerous."

— Stephanie Chuang (@StephChuang) February 10, 2016