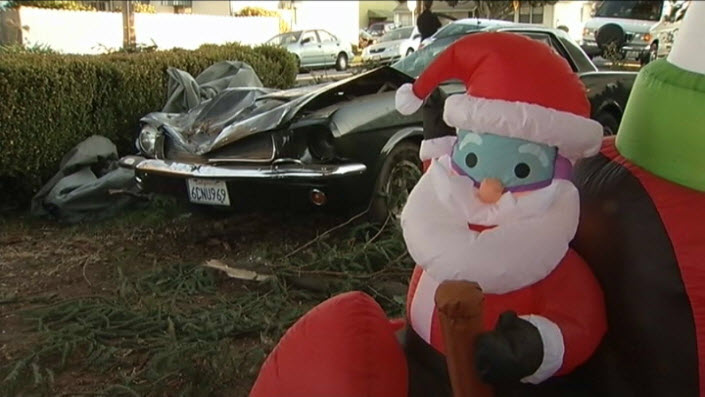 A suspected drunk driver was taken to the hospital, and into custody, after he ran his silver sedan into a parked in a residential section of Hayward and then careened into someone's front lawn, landing on top of a Ford Mustang just feet away from a blow-up Santa doll sitting in the grass.
The California Highway Patrol arrested Alberto Solis, 30, of Hayward after his 1997 Toyota Avalon landed on top of a vintage 1966 Ford Mustang parked in the normally quiet 500 block of Grove Way east of Western Boulevard. The CHP report states "alcohol was believed to be a contributing factor."

The scene on New Year's Day morning was oddly serene: The banged-up Mustang was still sitting on the grass, the sedan had been carted away after the 6:15 a.m. crash.
Dirt was kicked up along the curb where the sedan had hit, and a large glass, brown bottle of alcohol lay on the ground.

"After I heard the initial impact - just a big boom - I noticed the cars on top of each other," Paul Spencer told NBC Bay Area. "I called 911. The driver was still in the car, but you could smell the alcohol. He was laid out in the back."

Mumin Pajalic said it was his brother-in-law's Mustang that was crushed.

"He loved that car," Pajalic said, adding that his brother-in-law is overseas and didn't immediately know about his beloved Mustang.

He and his neighbor lamented the fact that alcohol is thought to have fueled such a mess.

"He was alert, he was talking," Spencer said. "But this is what you get when you drink and drive."