A tanker truck on Tuesday flipped over on a Highway 99 off-ramp in Merced County, bursting into flames and killing at least one person, according to the California Highway Patrol.
The truck was heading off the southbound lanes near Applegate Road around 10 a.m. when it overturned on the sharp off-ramp and exploded, NBC-affiliate KCRA reported.
The CHP has not confirmed who was killed, but the truck driver is still missing, officials said.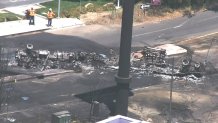 The flames prompted the CHP to evacuate nearby businesses, but the fire damaged another vehicle as well as a nearby McDonald's, meltings its quintessential golden arches.
Footage from the scene also showed plumes of smoke shooting in the air.
No further details were immediately available.
Check back for updates.