Defending champion Oracle Team USA not only remained alive Tuesday, they forced a winner-take-all race in the 34th annual America's Cup.
Race 19 will air on NBC Bay Area Wednesday, beginning at 1 p.m. NBC Sports will also livestream the race at this link.
Team USA's seventh win in a row is considered an astonishing winning streak by sailing standards. They were behind 8-1 a week ago and are now tied 8-8 in the first-to-nine series.
It was a one two sweep for the Americans Tuesday.
Team USA has been staring down the barrel of defeat for the past week.
Skipper Jimmy Spithill has played the underdog role from the start and he isn't giving it up.
"I think we are the underdog, and I'm going to keep running with that and use that energy for tomorrow," said Spithill. "The exciting thing for me is seeing how this team has gelled together. Sometimes you need to face that barrel of the gun to come together. You can get wobbly in the knees or you can look into the barrel. Every day we've managed to step it up more."
In the second race of the day, Oracle came from behind and passed the Kiwis after they tacked too early and slowed while zigzagging toward the Golden Gate Bridge.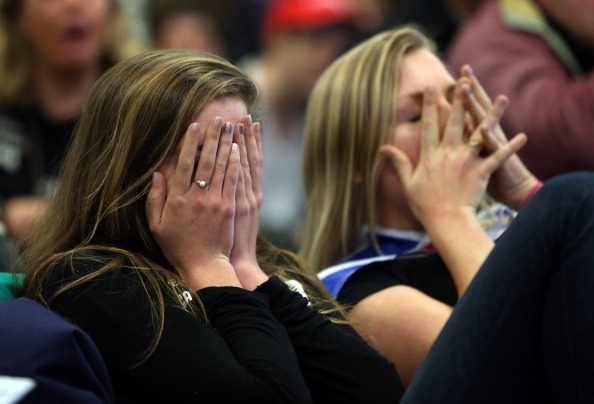 The Kiwis have needed just one win to capture the America's Cup since breaking the competition open with a lead of 8-1 last Wednesday. They haven't won a race since.
Millions of people in New Zealand are waking up early to watch the races. Television ratings show at least one in four in the country is watching it on TV and have been crushed by the recent losses.
"We do believe we can win, we've known we can win this thing for a long time," said Emirates Team New Zealand skipper Dean Barker. "It's one thing to talk about it and another thing to do it. We have to do everything right and sail as well as we can. We're going to prepare as we have been and we have confidence we can win this. No one's slightly head down or lacking in confidence. We know if we put the pieces together we'll be successful."
Either Oracle will finish one of the greatest comebacks in sports history or Team New Zealand, marooned on match point for days, will get the elusive win it needs to claim the Auld Mug for the second time in 18 years.

Nothing went the Kiwi's way Tuesday.
The team was put on the back foot early in the first race of the day. In Race 17 Oracle skipper Jimmy Spithill got a late leeward hook in the prestart, which forced Emirates Team New Zealand's Dean Barker to stay clear. But the boats collided twice, with USA's starboard hull hitting Emirates Team New Zealand's port hull, and the Kiwis were penalized twice for failing to keep clear.
They were never able to catch up.
"It's clear to see they were going pretty damn well," said Barker. "It was the first time that we recognized there was a condition where maybe we aren't as strong as we need to be. It's tough. We're doing all we can, the guys never gave up, but clearly the Oracle guys were going well in that stuff."
Oracle Team USA, owned by software tycoon Larry Ellison, is now one way away from keeping the Cup right here in the USA. Ellison is so immersed in his boating team's stirring comeback that he backed out of giving the marquee speech at his software company's biggest customer conference of the year.
Oracle has actually won 10 races, but the team was penalized two points before the finals for illegally modifying its boats during exhibition races in 2012 and earlier this year.
The races were expected to end Saturday, but have continued with Oracle's comeback and fickle conditions on the water causing repeated delays
Below is some of the reaction from around the Twittersphere to Tuesday's exciting races:
NBC Bay Area's Joe Rosato Jr. in his video report below shows why the extended races are inconvenient for some and dollar signs for others.
var nbcLP={};nbcLP.aRandomNumber=Math.floor(Math.random()*10000);nbcLP.currentPageLoc=encodeURIComponent(window.location.href);nbcLP.currentSiteLoc=encodeURIComponent(window.location.host);nbcLP.defaultWidth=652;nbcLP.defaultHeight=367;nbcLP.cmsID="225120452";nbcLP.vidPid="IPLf2tV8YOhw";nbcLP.vidSec="TK";nbcLP.vidSubSec="TK";nbcLP.vidFrame=document.getElementById("nbcLP225120452");nbcLP.vidFrame.style.border="none";nbcLP.vidFrame.width=nbcLP.defaultWidth;nbcLP.vidFrame.height=nbcLP.defaultHeight;nbcLP.vidFrame.scrolling="no";nbcLP.vidFrame.src="http://www.nbcbayarea.com/templates/nbc_partner_player?cmsID="+nbcLP.cmsID+"&videoID="+nbcLP.vidPid+"&width="+nbcLP.defaultWidth+"&height="+nbcLP.defaultHeight+"&sec="+nbcLP.vidSec+"&subsec="+nbcLP.vidSubSec+"&turl="+nbcLP.currentSiteLoc+"&ourl="+nbcLP.currentPageLoc+"&rand="+nbcLP.aRandomNumber;
Copyright AP - Associated Press