Otilio "Nico" Martinez was just minutes away from home when he fell mortally wounded in a hail of bullets while walking through his Richmond neighborhood. ShotSpotter gunshot detection equipment captured the sound of nearly 50 rounds that police say were fired into Martinez at close range just in front of the Zion Hill Church. It was the Fall of 2016, and his family says Nico, 18, was holding down two jobs and had just enrolled in college classes.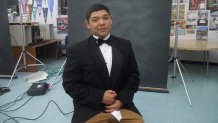 For members of the Swerve Team, the North Richmond gang later implicated in Martinez's murder, the killing was just a blip in a violent, months-long crime spree that left a trail of dead and wounded.
For his parents, Nico's death was life-shattering.
"He was genuine and fun loving," said Josie Martinez, Nico's mom. "He was humble and unique. His smile literally lit up a room. He was heaven sent, and even before he came into the world, I was so in love with him."
The break in the case, according to police, was an old technology that's now being used in new, more aggressive ways.
The technology combines traditional ballistics testing, which links shell casings left at crime scenes to the guns that fired them, with a national database run by the US Bureau of Alcohol, Tobacco, Firearms, and Explosives (ATF). The technology is called the National Integrated Ballistic Information Network (NIBIN).
While the ATF and many local law enforcement agencies say the technology has the potential to solve crimes and get some of the most violent, prolific criminals off the streets, NBC Bay Area's Investigative Unit found NIBIN isn't being utilized by many crime labs and police departments across California. And when it is, there are often significant backlogs impeding its effectiveness.
Here's how NIBIN works:
As images of shell casings are entered into the database, the system searches for matches of shell casings left behind at other crime scenes, allowing law enforcement to connect different shootings across time and jurisdictional barriers to the same firearm.
"Each firearm leaves a unique marking on the shell casing," said Christopher Amon, ATF's Firearms Operations Division Deputy Chief. "No two firearms will leave the same marking."
"That casing is then entered into an acquisition station where it acquires different images of what we call regions of interest," Amon said. "So you have a firing pin impression. You have an ejector mark. Some automatic firearms, when a shell casing is ejected, it leaves a unique mark. You also have a breech face mark."
Each of those marks or impressions are unique, much like DNA for humans.
"[The image is] then correlated against the database [containing] 3.2 million images," Amon said. "And from there, a skilled technician will go through and review and find matches in that database."
While the technology has been around since the 1990s, the ATF says a paradigm shift in how it's used and how law enforcement agencies collect evidence and feed the system has the potential to significantly drive down and solve violent crime. According to FBI data, about 40 percent of all gun homicides go unsolved.
"That's the paradigm shift," Amon said. "NIBIN went from a laboratory tool that was utilized on the back end, meaning a firearm or casing would go through the entire process and then be entered into NIBIN sometimes months or years later, to a front end investigative lead tool."
If police departments across the country buy in, the ATF says, NIBIN has the potential to solve gun crimes and even prevent future crimes by getting the most violent and active criminals, responsible for the vast majority of shootings, off the streets.
"It enables us and other law enforcement entities to really drive the violence down by targeting the most prolific shooters and their sources of firearms," said John Durastanti, Special Agent in Charge of the ATF's Phoenix field office.
"It is revolutionary," said Michael Eberhardt, Chief of ATF's National Firearms Division. "Now we are able to communicate between crime intelligence centers in between those dark areas in the firearms trafficking world. Those sort of blank spots that we weren't able to see before, we see very clearly now."
But to be an effective tool for solving cold cases and catching shooters before they strike again, the database must be robust and contain shell casing images from as many shootings as possible. That pertains even to smaller, seemingly insignificant events such as stop sign shootings or holiday celebrations where there is no apparent victim.
An investigation by NBC Bay Area, NBC-owned TV stations and "The Trace" discovered that's where problems often arise.
Despite NIBIN's potential, participation by local and regional law enforcement agencies remains low, although more are getting on board. According to the ATF, only about 25 percent of all guns and shell casings recovered by law enforcement across the country are ever entered into NIBIN. In California, NBC Bay Area's Investigative Unit found some of the state's crime labs don't use NIBIN at all.
And at many of the crimes labs that do use NIBIN, there can be backlogs lasting months – possibly years in some cases – which means that cases can wither on the vine as detectives run out of investigative leads. NBC Bay Area's investigation also found many law enforcement agencies enter just a fraction of shell casings and guns into NIBIN.
"In order for us to stop shooters from continuing their conduct, we have to quickly get guns to the lab, quickly test them in the database, and then quickly get the information back out to detectives to actually apprehend the shooters," said Marisa McKeown, Supervising Deputy District Attorney at the Santa Clara County District Attorney's Office.
At the Santa Clara County Crime Lab, run by McKeown's office, some guns used to sit on the shelf for up to a year before they were test fired and run through NIBIN. Now, McKeown says they're making a major push, including hiring more criminalists, to clear backlogs, test every gun and shell casing, and get those leads out to detectives as quickly as possible. The gold standard for a shell casing trace turnaround, McKeown says, is 48 hours, although within one or two weeks is considered pretty good.
For NIBIN to work as intended, it's not just up to crime labs to act quickly. Police need to send every shell casing and gun to the lab, even if they're connected to low priority crimes like the shooting of a stop sign. The gun that someone test fired on that stop sign, according to law enforcement sources, could have also been used in a murder.
NBC Bay Area investigation found most labs aren't coming close to meeting that 48-hour turnaround time, and in many cases, police are sending just a fraction of those guns they find or recover at crime scenes to the lab.
NBC Bay Area sent a survey to 20 different crime labs in California. Of the one dozen labs that responded, there was an average wait time for testing of 3 months. One lab has a backlog lasting up to four years. Another lab could not tell NBC Bay Area how long it takes to complete ballistics testing because its computer system isn't equipped to do so. And still others, such as the California Department of Justice, which runs 10 crime labs across the state, did not respond to inquiries from NBC Bay Area.
Of the labs that responded, the Los Angeles Police Department's crime lab was the only lab that said it could get NIBIN leads on firearms to investigators within two weeks, although the Oakland and San Francisco Police Departments came close.

This is problematic, according to law enforcement sources, because for NIBIN to reach peak potential, it needs maximum participation. The more agencies and crime labs that participate, and the more evidence they feed into the system, the more effective NIBIN gets.
"If we aren't sending all guns to the lab, then our murder weapon in San Jose might be sitting on your shelf in Modesto, and vice versa," McKeown said. "So it's really critical that we make a regional effort to try and get all guns submitted so that we can really be solving crimes across jurisdictional lines, because what we know is that guns don't see county lines."
McKeown says that long backlogs can mean some crimes likely go unsolved.
"Absolutely [they can go unsolved]," McKeown said. "One big category of guns that didn't always make its way to the crime lab would be a 'found gun' - meaning that somebody was walking along and saw a gun in the bushes. What we know in law enforcement is that that's the most likely type of gun to be linked to a crime, because people who own guns don't typically toss them in the bushes."
There are different reasons why many crime labs and law enforcement agencies aren't using NIBIN, but it often comes down to money and manpower. Crime labs often don't have the staff to clear backlogs and run evidence through NIBIN as quickly as possible. That's why the Santa Clara County District Attorney's office is making a greater investment in its crime lab, one McKeown says is already paying dividends.
"Our lab has made tremendous progress," McKeown said. "We have no backlogs on our casings, and for our firearms, they've dramatically decreased the backlog and have three new criminalists who are expected to make their way through the backlog this year. So we'll be processing firearms evidence in the quickest fashion we've ever done in this county."
Across the country, in part because of ATF's aggressive push, and in part because of proven success stories, more agencies are now adopting a mentality of testing every gun and shell casing, and testing them as quickly as possible.
In the Bay Area, the arrest of Swerve Team members in connection to Nico Martinez's murder and a host of other crimes was one of those success stories. Months after Nico's murder, investigators at the Contra Costa NIBIN lab test fired a gun ditched by Swerve Team gang members. Technicians ran that shell casing through NIBIN, and got hits linking that gun to casings left behind at other Swerve Team crime scenes.
Following that breakthrough, seven members of the Swerve Team gang were arrested in connection to three murders, 14 attempted murders, six armed robberies, two carjackings and a high profile home-invasion robbery that had been captured on home surveillance video.
There are currently 179 NIBN terminals across the country, according to the ATF, but there are plans to grow the system in the near future. According to our partners at The Trace, the ATF has requested $8.9 million in its 2019 budget to fund new NIBIN sites. And for local law enforcement agencies that don't have access to NIBIN, the ATF says it's willing to help by processing guns on their behalf in as quickly as two days.
NIBIN won't bring back her son, but Josie Martinez says she hopes Nico's death might inspire law enforcement agencies to prioritize a technology that might prevent other families from feeling her pain.
"Should we spare no expense to track these people down before they do harm?" Martinez said. "He was my only son that I miss every day. Every second of every day I think about him."