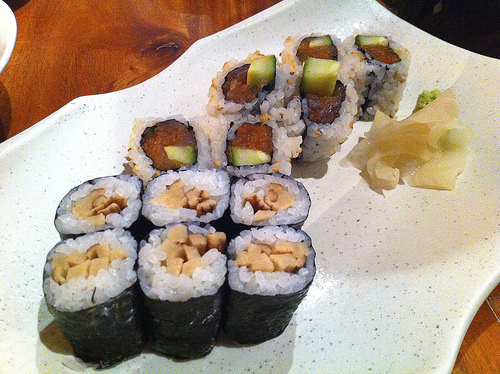 Tequila and raw fish? This won't end well, I thought to myself when I first heard of Hecho, the Financial District's new robata and sushi bar boasting over 80 tequilas. I met a friend for dinner at Hecho the first time I visited, not entirely sure what to expect.

I was pleasantly surprised. We were quickly seated inside the small interior and and started off with a couple of house margaritas while we perused the menu.

We started with the smoked pickled daikon and tuna-cucumber maki. Hecho's menu isn't very lengthy, but what they offer is unique — no California rolls here. The vinegary daikon were super crunchy and the tuna was good quality and fresh, a welcome relief as I took another sip of tequila.

Next came the chicken karage, my favorite small plate at Hecho — perfectly crisped, super succulent chicken glazed with a spicy-sweet sauce.

Hecho isn't the kind of place to go to if you're ravenous — the small plates are, well, small. But they're artfully presented and tasty. On my second visit with another friend, we ordered a few maki and finished off with a plate of cured hamachi.

Plated on a pink salt block and garnished with candied jalapeno and lemon oil, the fish was almost too pretty to eat. (Not that it stopped us.)
As it turns out, tequila and sushi can and do go together. After all, if sake is a mainstay in sushi bars , why not tequila?
Mariam Hosseini is a Bay Area native who has been writing about food and travel since 2003. She blogs regularly at yogurtsoda.com.