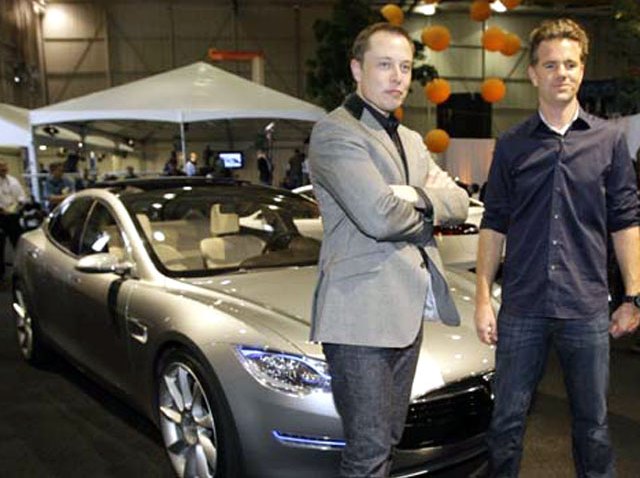 Your move, Long Beach.
Downey delivered a public display of affection for automaker Tesla this week when city officials visited CEO Elon Musk's rocket company in Hawthorne. They're trying to convince him to build an assembly plant on the former site where NASA assembled space capsules.
The Downey site and the former Boeing 717 site in Long Beach are finalists for the assembly line, Musk told the Press-Telegram.
In an effort to melt Tesla's heart, city officials brought a gift basket with books and other memorabilia from the Apollo project, and a letter touting Downey's many attractive features, according to the Press-Telegram. Downey took out a full-page ad in Tuesday's LA Times.
What do they see in Tesla? When it comes to venture-backed companies, the San Carlos-based electric car maker has become the most popular girl in school.
Last week, the electric automaker in San Carlos received money for which it wasn't even looking. That's after the company reached profitability in July and was selected to receive $465 million in low-cost loans from the federal government.

The company is looking for a southern-California site to build its new Model S sedan. At stake -- about 1,200 jobs.
Downey Mayor Mario Guerra has made phone calls and sent letters to Musk, who is at the Frankfurt Auto Show this week. Possibly playing hard to get.

The gift basket Guerra hand-delivered earlier this week included a silver stylus.

"We will continue to court him until he uses that pen to sign the deal," Guerra told the Press-Telegram.
Downey officials said their city has local engineers, good schools and a central location -- it's almost the city of a high-tech manufacturer's dreams.
Almost.
Long Beach offers something Downey doesn't -- a state enterprise zone. Companies get a tax credit as part of an effort to provide employment for low-income residents.
Downey has so far not publicly offered financial incentives.
Tesla's run of good fortune comes after some ups and downs. Founded in 2003, Tesla had plans to build a factory and boost production in September 2008.

Then the company announced layoffs and a delay for the Model S during the market freefall.

But last week, Tesla Motors raised $82.5 million when Fjord Capital Management, Daimler, Aabar Investments and others provided new cash.

According to the Wall Street Journal:
The $25 billion ATVM program, created under the 2007 Energy Security Act, is one of most desirable sources of funding for developers of clean vehicles. The program continues to receive one application per week on average, Carol Battershell, a senior advisor of the Energy Efficiency and Renewable Energy office of the DOE, told VentureWire on the sidelines of the Cleantech Forum in Boston last week.

Tesla will use $365 million of its DOE loans for the production, engineering and assembly of the all-electric family sedan Model S and $100 million for a powertrain manufacturing plant. The powertrain facility will be built in Palo Alto, Calif., and the company will soon announce the site for its Model S plant. O'Connell said that the site selection for the new plant is down to two locations: Downey or Long Beach, both in Los Angeles County.