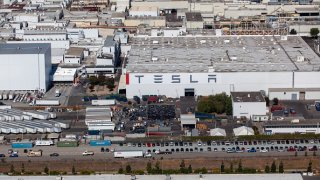 Three former employees at Tesla's factory in Fremont reportedly were fired after accepting the company's offer to opt out of returning to work for fear of being exposed to the coronavirus.
The three workers told the Washington Post that when Tesla reopened the Fremont factory in May, defying Alameda County orders at the time, CEO Elon Musk sent a letter to all employees, saying in part if they "feel uncomfortable coming back to work at this time, please do not feel obligated to do so."
In late May, the county formally allowed Tesla to resume factory operations, after which the company sent an email to employees saying it will be reinstating its attendance policy, but with a provision allowing concerned workers to stay home on unpaid leave until May 31, the newspaper reported.
The three workers, all of whom had concerns of exposing family members if they returned to the factory, thought Musk's offer to stay on unpaid leave stood. But by the end of June, Tesla told the workers they had abandoned their jobs and fired them, they told the Post.
One of the workers has a 1-year-old son born with respiratory problems; another is responsible for caring for an aging stepfather; and the third worker's fiancee had recent heart surgery and suffers from chronic obstructive pulmonary disease, the Post reported.
Meanwhile, some Tesla factory workers have complained about the lax coronavirus protocols at the Fremont plant, telling the Observer the screening process is not thorough and mask-wearing is erratic.
The Post first reported that Tesla told employees of at least two positive COVID-19 cases after its May reopening.