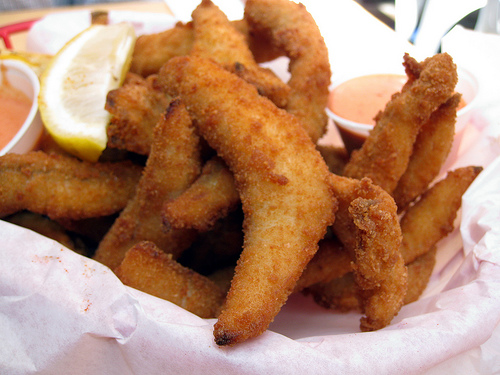 San Francisco's SoMa district is about the last place on earth I'd expect to find a casual Caribbean eatery but lo and behold, it exists.

Maybe it was because the sun was actually shining when I visited, but I really felt like I was somewhere warmer, somewhere more tropical perhaps, when I ate at Primo Patio Cafe. Sitting in their outdoor patio, tamarind juice in one hand, fingers tapping to salsa and reggae on the other, I almost forgot I was in San Francisco.

But let's get down to why I was really at Primo Patio: the food. I had heard rave reviews about their finger snaps, so I started with that.

The finger snaps, or breaded and fried red snapper, were good. They were crispy and crunchy, but the real winner here was the creamy secret sauce that they came with.

I ordered the steak sandwich, while my dining companion had the shrimp Caribbean quesadilla.

Served with jack and cheddar cheese, sauteed mushrooms, green onions, black olives, salsa and sour cream, the shrimp quesadilla definitely had a lot going on. And while it was tasty, there was a lot of competing flavor going on here. The portion size is big, but it was light on the shrimp.

The steak sandwich was incredible. I'm guessing that Primo Patio marinades their jerk steak in happiness; it was that good. Oh, and it doesn't hurt that their steak sandwich comes served with a generous serving of red fries and more of that incredible secret sauce.

San Francisco may be thousands of miles away from the tropics, but when the mood strikes, it's nice to know that Primo Patio offers a delicious slice of the Caribbean right here at home.
Mariam Hosseini is a Bay Area native who has been writing about food and travel for six years. She blogs regularly at yogurtsoda.com.