What to Know
Smartphones have replaced all but a few point-and-shoot camera models, and camera stores draw slim profit margins on high-end digital gear
Some camera stores have survived by adapting, in part to a growing demand for high quality video
A new fixed-lens camera from Ricoh and an uptick in used film camera sales could signal renewed interest in more traditional photography
In a nondescript office at the edge of San Francisco's financial district, a few reporters were invited for an early glimpse of a hotly anticipated new camera that, at first glance, looks like a museum piece from days gone by.
The Ricoh GR III resembles dozens of cameras that came and went during the 1990s and early 2000s: black, pocket-sized, with a few knobs and a fixed 28mm wide-angle lens that retracts into the body.
"Folks that don't know the history of the GR would consider it a point and shoot camera," said travel photographer William Hereford, who presented the camera to reporters. "Historically, the GR is the ultimate street camera."
Prized by a veritable cult of street photographers for its speed, one-handed controls and unassuming looks, the GR is among the last fixed-lens pocket cameras still made. Now, the latest version of the camera has to contend with a formidable competitor: the smartphone that's already in your pocket.
"They need to sell cameras to people who've decided, 'Well, I have a camera which is 99 percent good enough. Why do I need to buy a separate camera?'" said SlashGear editor Chris Davies, one of the journalists reviewing the GR III.
The search for answers to that question led us to explore how camera makers and local camera stores are surviving in the age of the smartphone. We started to find the answers when we met Jerry Grossman, who's the executive director of an industry group called The Imaging Alliance.
"Smartphones are good cameras — we can't argue with that," Grossman said. "Real cameras take different kinds of pictures that people might be missing."
A Photo Walk With Ricoh's New GR III Camera
What Grossman told us is the crux of a new industry-wide push to show people the pictures they're missing, right on the very device that's nearly spelled the point-and-shoot camera's demise. His group is promoting an Instagram hashtag — #RealCamerasRock — that brings up pages of beautiful photographs that would be difficult or impossible to reproduce with a phone. The photos feature long exposure times, shallow focus and extreme telephoto shots — the kinds of photographs where a smartphone often falls flat.
It's a sales technique that's familiar to Spencer Pon — one of the co-owners of Fireside Camera on San Francisco's Chestnut Street. Inside the store, the walls are lined with printed photos that show off what "real" cameras can do.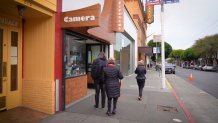 "That was the blood moon from a couple Sundays ago," Pon said as he pointed to a framed print of a red moon on the wall of the store. "With a phone, you'd see a little dot in your picture, which is completely useless."
Fireside Camera is among the last of the Bay Area's neighborhood camera stores — now recognized by the city as a Legacy Business. A Yelp search for "camera store" in San Francisco yields 63 results, but many of those are actually businesses that take passport photos, or electronics stores catering to tourists in Fisherman's Wharf. Outside of that neighborhood, fewer than a dozen San Francisco stores list camera sales as their primary offering.
"We've had people come in here that say, '(The) first time I came in here, (I was) 4 or 5 years old,'" Pon said. "We've seen them grow up, and they actually have their own kids now."
Pon said family tradition is an important part of the photo business: Kids who grew up with parents who were into photography are likely to take to the hobby themselves as adults. And once they have their own kids, he said, they often come looking for new ways to document family memories.
"They want to take pictures of their kids, they want better quality," he said. "Those are a lot of the people who are driving sales now."
Pon said Fireside Camera, which was opened by the Fireside family in 1954, has steadily changed with the times — even selling drones for a short while, and most recently becoming one of the Bay Area's biggest repositories for GoPro action camera accessories. But he said the latest hot seller is something no one expected: used film cameras.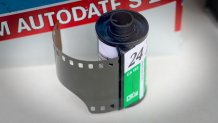 "There's a lot of young people who are trying to get into photography. They're taking classes, and they want that photo experience," he said. "The cameras that were your basic cameras back in the 70s are what's selling, and they're selling for more than they sold for new, in some cases."
Samy's Camera, the South-of-Market superstore that's well known to pro photographers, has also seen an uptick in film camera sales, and even in darkroom supplies, said rental manager Quin Boreen.
"20-30 years later, here we have bell bottoms again," he said. "Things go in circles."
But at the same time as it stocks up on film for those rediscovering the art, Boreen said Samy's is catering to an entirely different crowd: YouTubers and Instagrammers looking to up their photo and video game.
"For a lot of these younger generations," he said, "I think Instagram, social media, YouTube — that is the new art form."