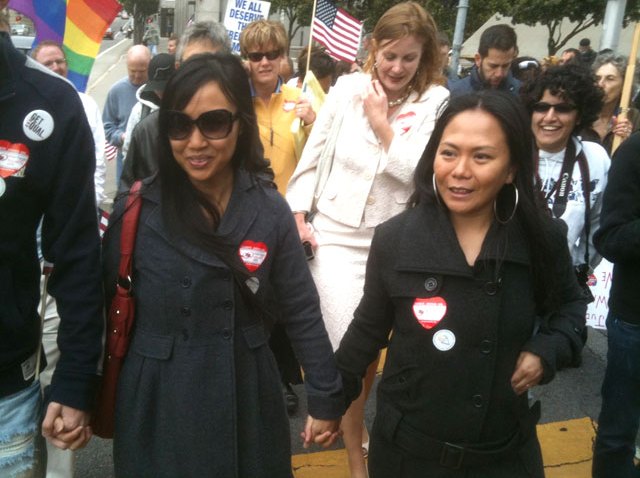 A boisterous rally, police cars and announcements over loudpeakers in San Francisco are usually cause for alarm but on Wednesday night, those were the ingredients for a celebratory occasion.

Hundreds of people marched from San Francisco's Castro District to City Hall Wednesday night to celebrate a federal judge's ruling that California's voter-enacted ban on gay marriage is unconstitutional.

U.S. District Judge Vaughn Walker ruled Wednesday that Proposition 8, the November 2008 initiative that banned gay marriage in the state, violated the U.S. Constitution's guarantees of equal treatment and due process.

A police escort accompanied the marchers from Market and Castro streets at about 6 p.m. and up Market Street to City Hall. It took the group about an hour to make their victory march.

Members of the crowd carried giant rainbow flags and signs that read, "Everyone deserves the right to marry." A truck drove alongside the procession playing the Queen song "We are the Champions" over loudspeakers.

Police spokesman Officer Samson Chan said police would continue to monitor the crowd at City Hall.

"So far we've had no issues," Chan said. "It's more of a celebratory mood."

Proposition 8, approved by California voters as a state constitutional amendment, provided that "only marriage between a man and a woman is valid or recognized in California."

Two same-sex couples, including one from Berkeley, opposed the initiative this year in the nation's first federal court trial challenging a state ban on same-sex marriage under the U.S. Constitution.

Walker heard evidence in the nonjury trial in January, and closing arguments were presented in June.

Others, including San Francisco Mayor Gavin Newsom and Governor Arnold Schwarzenegger, praised Walker's ruling Wednesday.

"For the hundreds of thousands of Californians in gay and lesbian households who are managing their day-to-day lives, this decision affirms the full legal protections and safeguards I believe everyone deserves," Schwarzenegger said.
Bay City News contributed to this report.