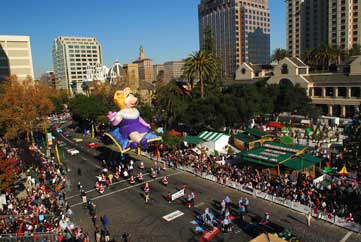 The Macy's Thanksgiving Day parade is a must see for anyone wanting to get in the holiday spirit. But did you know that the Holiday parade in San Jose is close rival to that event?
Like the Big Apple, San Jose's parade has huge aerial balloon, floats, dance numbers and famous faces along the route. This is the 29th annual parade for San Jose. This year's theme is "Toys, Treasures and Traditions" and will have another star-studded line-up of special guests sure to entertain folks of all ages.
If you haven't seen it before, the parade is a lot like a show. It kicks-off with a musical performance from the Broadway show Hairspray.
You can watch it live Sunday morning along the streets of San Jose starting at 8:30 a.m. Or you could stay on your couch and watch it on TV in your PJs on KNTV NBC Bay Area Channel 11 at 9 a.m.
The San Jose Holiday Parade is recognized as one of the top 25 parades in the United States. It has 19 bands, 14 floats, 10 balloons and a handful of musical performances.
This year Raj Mathai will play host for the television audience alongside Jessica Aguirre. The honorary Marshall's are members of the World Series Champion San Francisco Giants.
If that wasn't enough to get you motivated to come on down, we have it on good authority that Brent and Laura Cannon will be in the parade with their adorable triplets.