A lonesome wisp of fog curled across the hills over the Stinson Beach parking lot where Natalie Pepper unloaded a car laden with surfboards and wetsuits.
As she set-out a plastic tub of wetsuits, a stream of fledgling would-be-surfers began trickling in.
Will Hansen timidly edged up to Pepper.
"Do you remember me?" he said. "I was here before."
"I do remember you," Pepper said grinning, handing him a wetsuit. "You're a star of the Internet with that picture of you surfing."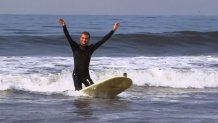 Hansen happily cocked his head and strolled off to slip into the suit.
"I just think it's the power of the ocean," Pepper said, watching Hansen walk off. "I don't know. I could get all hokey."
For the last four years, Pepper has operated the Spectrum Surf Camp, a week-long surfing emersion for young people with autism and cerebral palsy. The special ed teacher, and avid surfer, knew how surfing made her feel, even if it was just a couple rides.
"If I'm having a bad day and I get out in the ocean," said Pepper, "I feel a lot better."
She reasoned the same ocean therapy could benefit children with special needs who commonly act-out in frustration -- a symptom helped by physical exercise.
"I see pure joy," said Pepper of the surfers. "Then they're just having fun and they're relaxed and having fun in their body."
On this day students from nearby Cypress School, a Marin County school that specializes in children with autism, turned out for the fourth day of a weeklong camp.
Pepper instructed the group of six kids on the finer points of waxing a board, and how to paddle and how to pop to their feet. Soon the group was bouncing among the waves -- each student aided by a pair of volunteers.
"This is the first time most of us, myself included," said Cypress director Laura Briggin, "have had the experience of learning how to surf."
Young participant Brooks Silver saddled onto a board accompanied by a pair of helpers. His face lit into a wide smile as the water churned beneath the board and propelled him forward.
From shore, his mother Beth Silver watched, mostly through the lens of her camera.
"It's giving him freedom that he's not used to having," Silver said. "It's not something I would've ever guessed he'd enjoy."
For many of the students, the victory is just getting into the water, let alone actually surfing. Some have never even been to the ocean, even though they live in Marin.
"Sometimes I'll only get students that ride on their belly," said Pepper. "That's OK because it's still surfing."
Just off the break, participant Will Hansen launched to his knees on his board -- arms raised in a victorious V. Precariously he edged momentarily to his feet before plunging into the churning waves.
"Everyone has their challenges or disabilities," he said a short time later. "It doesn't actually mean you're not as good. it means you are who you are, you know?"
Briggin said the water has healing properties for autistic children.
"It gives you full body emersion and sensory stimulation, sensory regulation," Briggin said.
Pepper based her Marin County camp from a similar program in Southern California. She runs the camp during summer and fall. As she watched the scrum of surfers angling for waves and laughing, a smile crept across her face, and she allowed herself to get hokey.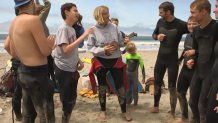 "I really think it's something with the water," Pepper said. "And the tides and the movement."
After several hours of surfing, the group retreated to the beach where they ate sandwiches and sang Bob Marley songs, accompanied by Briggin's ukulele.
The fingers of fog retreated up the hill, and the group danced and played. Just another party on Stinson Beach.