Update: Eric Sun passed away in the arms of his wife, Karen, on Thanksgiving morning 2017.
In community theaters across the country, Fiddler On The Roof has been a staple for more than 50 years.
But the current 4-week run of Fiddler by the Sunnyvale Community Players is destinated to be one-of-a-kind.
That's because while it is 33-year-old violinist Eric Sun's first performance with SCP, it will also be his last.
"I was diagnosed with glioblastoma which is the most lethal and incurable form of brain cancer," Sun said.
The diagnosis came just one year ago, with a prognosis to match. Sun, an engineering manager at Facebook, took a long, hard look at just how he wanted to the spend the time he had left.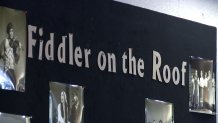 "My wife, Karen, and I started thinking what are the things that I want to leave behind? What are the things I want to be remembered for?" Sun said.
Bring people together and building community were their answers.
Music was to be their means.
Sun had played violin ever since was 4-years-old but life's responsibilities had pushed that pleasure down the list of priorities. So, Sun set about spending hours upon hours resurrecting that talent.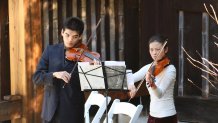 When Karen Sun learned about the Fiddler performance, she had an idea. She suggested to Music Director Kevin Surace that her husband perform a particularly difficult solo: the violin cadenza written for the opening credits of the film version of Fiddler by John Williams and originally performed by Isaac Stern.
Surace didn't need to be asked twice.
"When I was told, I said, 'You're going to make it. I'm going to help you make it there, learn this part,'" Surace said.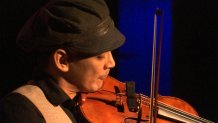 Others in Sun's shoes might have chosen more selfish pursuits. No one would have blamed them.
But Sun spent months perfecting what was to be a gift, not for him, but for others.
"My violin playing is how I build community, how I bring people together," Sun said. "How I show my appreciation for everything that people have done for me.
So for 8 minutes in the middle of each performance, Sun walks to center stage and begins to play. Sun, the audience, and his fellow cast members are then bonded by the beauty of music and fragility of life.
A shared experience that teaches all of us to do what brings you joy because no one knows when our song will end.
Performances of Fiddler On The Roof by the Sunnyvale Community Players continue until October 8th.