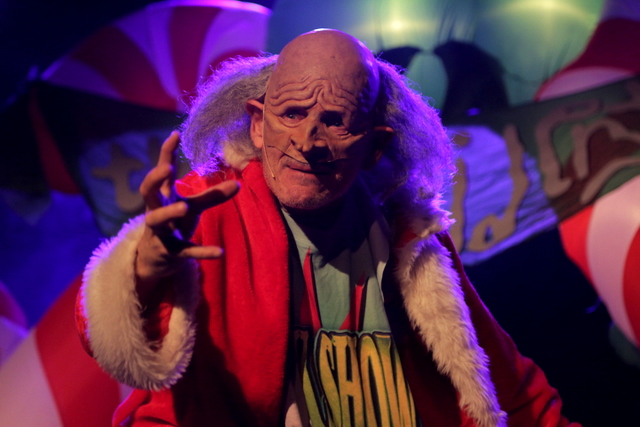 As one of the members of the mysterious San Francisco-based band, The Residents, once said: Don't make your music hoping you'll land an obituary in Rolling Stone magazine.
And it is with that maverick spirit that the documentary, "Theory of Obscurity: A Film About the Residents" was made, which screens at the Kabuki Theater on Friday May 1 and Sunday May 3 as part of the San Francisco International Film Festival. The film debuted in March at South by Southwest.
"That really stuck with me," said Don Hardy, 40, of San Jose, one of the film's three producers, all former or current NBC Bay Area photographers. "I learned from them that if you love something, you should find people with the same passion, and go do it."
So he, Barton Bishoff and Josh Keppel, who still works at NBC Bay Area, set off two years ago to document the life of a largely unknown group, but which is wildly popular with a small but rabid following.
The members, who play experimental, avant-garde tunes and have been described as the "strangest band in rock and roll," stand out in two ways: They have been wowing crowds for 40 years, and they remain completely anonymous to their fans by hiding their faces. Their best-known costume? Iconic eye-ball masks with top hats and tuxedos.
But that's not to stay they stick to that. They're always changing their looks. They particularly favor grotesque rubber faces - some bald, some with flowing dreadlocks. The trio recently caved into pressure to ID themselves to their adoring fans. So they did. As "Randy," "Chuck" and "Bob."
"Being around for 40 years is impressive for any band," said Keppel, who was first introduced to the band through another cult figure, Les Claypool of Primus who plays The Residents' cover tunes, about 20 years ago. "But their musical art is just so weird. I want to open up people's eyes about them."
The performers are able to make a living in the Bay Area by creating more than 60 albums and staging shows, including a stop at Bimbo's in San Francisco during the group's recent "Wonder of Weird" tour.
Their fans love them so much, that one collector in the Midwest bought their "Ultimate Box Set," which includes every official release and one iconic eyeball mask and hat, all packed in a refrigerator, for $100,000.
The group started in rural north Louisiana, but had its "artistic awakening" after moving to San Francisco in the late 1960s.
While their identities remain unknown, they are managed by The Cryptic Corporation, which handles their media inquiries and bookings.
The documentary took more than two years and $200,000 to make, Hardy said, about $50,000 of which was raised by fans, much of it through Indiegogo crowdfunding.
As for traveling to parts of the United States and Europe with the anonymous band, Keppel himself was cryptic about whether he knew who the performers were.
"At some point," Keppel said, "You get welcomed into the inner circle."
But those in the inner circle are also close enough to keep the four-decade old secret intact.
TO WATCH THE FILM: 8:45 p.m. Saturday at the Pacific Film Archive Theater in Berkeley; 9 p.m. May 1 and 6:15 p.m. May 3 at Sundance Kabuki Cinemas in San Francisco. Tickets: $14-$15, info at www.sffs.org.