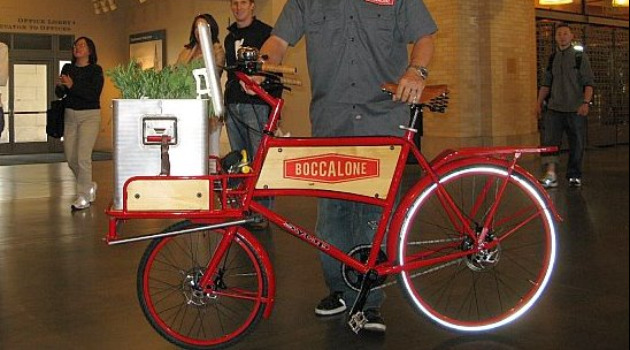 Not to be outdone by Creme Brulee Man or the Sexy Soup Lady but the Salumi-Cycle brings its own flavor to the San Francisco street food scene.
The Salumi-Cycle is a project of Boccalone, which serves hot and cold Panini options along with sliced salumi out of its stationary Ferry Building location. Like most push cart services in the city, the cycle uses Twitter to announce when and where it will be serving sandwiches next.
Boccalone gets credit for ditching the whole push cart/taco truck conversion under the wraps street thing to pave its own stylish way. And they are doing it on the up and up.
No disrespect to what is happening in the Mission but a custom fitted red bike carrying diced pig around the city is pretty cool.
"The Salumi Cycle will be at Sutter & Montgomery at 12:30 pm with prosciutto Panini ($8 each)," they tweeted on Friday morning. "See you there!"
And no salumi is not a typo or a slip up. Our friends at SF Gate explain it well when they say it is "a mix of house-cured meats." You're not alone if you didn't know what salumi is.
"No one knew what the heck it was," Chris Lee, the owner of Berkeley's Eccolo told SF Gate about serving salumi. "They thought it was a mistake, a typo."
The cycle is always found in the Financial District. There is no word on whether Boccalone's meals on wheels will make it to other parts of the city anytime soon.