When Maren Lane calls the theater her home, she doesn't just mean it's a place she feels comfortable.
What Lane also means is the old theater at San Jose's Bellarmine College Prep is where she spent a good chunk of her childhood. It's where, Lane said, she needed to be if she wanted to spend time with her father, Tom Alessandri.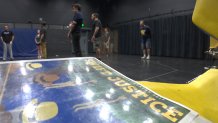 "He was there all the time," Lane says. "He would include me and that felt great because I could be part of his world, which became my world."
Tom Alessandri, or "T.A" as his students called him, lead the theater program at Bellarmine for more than 30 years. He directed multiple shows a year on top of a full class schedule teaching English.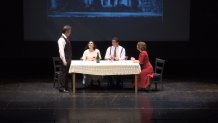 To say he was beloved, would be to undersell his role in life at the school. "He was in a lot of ways the blood that passed through this school," Lane said.
Lane began helping her dad behind the scenes on productions before she was even in high school herself. As she got older, Lane was the technical director on many of Alessandri's shows. That included his latest: Swift Justice, the re-telling of a dark tale from San Jose's past, the lynching of two kidnapping and murder suspects in St. James Park in the 1930s.
They worked on it together, that is, until Alessandri died just two weeks before rehearsals were set to start. He was 65-years-old.
"Definitely sudden," Lane said, "which was the hard part."
Lane knew she still wanted to continue with the production but couldn't replace her father's duties all by herself. So, she turned to the cast and crew and asked for their help.
"They all said yes," Lane said. "I needed this. It was the last thing I had with him and I kind of needed it to still happen."
Brendan McCall is a former student of Alessandri's who knew him for 30 years.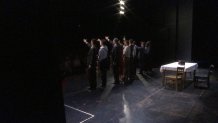 Now a theater professional himself, McCall added the task of directing Swift Justice in addition to acting in it. He worked directly from notes on blocking and stage direction Alessandri had written into his copy of the script.
"When people we care about suddenly leave us, I wonder, did they do everything they wanted to do in this life? Is there unfinished business," McCall said. "In this case, there is a concrete thing T.A. wanted to do. He wanted to do this show."
And so, for four nights this month, that is just what they did. They put on not just a performance but a show.
A show of respect for a mentor and friend.
And a show of support for those he left behind.
"I can't thank them all enough," Lane said. "I literally could not have done it without them."