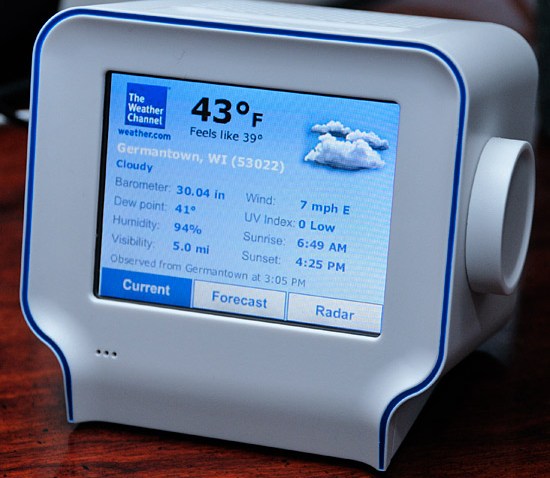 To call the Chumby One an alarm clock is the understatement of the year.
This pint-sized internet-connected gem with its bright, sharp and responsive touchscreen goes way beyond that. It connects to your Wi-Fi network, hooking you up to hundreds of widgets that give you live weather updates, show you video, give you access to your Twitter and Facebook accounts, connects you to your e-mail, and does over a thousand other things.
That's no exaggeration — there's an enormous list of 1,298 applications that have already been created for it. And if you're into clocks, there are 201 faces to choose from, with more on the way.
Chumby One is the second iteration of this astonishingly useful little gadget, and because of its lower price, it's a lot more appealing. At $100 (compared to the $200 of the original Chumby), it's within reach of a whole lot more users. Unlike its padded, quirky older brother, this latest model is made out of plastic, has one USB port instead of two, sports a handy volume control on the side, and instead of the stereo speakers of its predecessor, there's a mono speaker. Not to worry — it sounds good enough to do the job in a pinch, and I'd recommend plugging in powered external speakers to its headphone jack anyway.
Connect an iPod Nano to that USB port, and you get a screen that looks a whole lot like iTunes that completely controls all its functions. It's even smart enough to read your playlists. Too bad it won't play music from an iPhone, iPod Touch, or 6th generation iPods and newer (nor will it charge our iPhone 3GS yet) — but Chumby's tech support reps say their engineers are working on that shortcoming, an issue with the way Apple's latest iPods mount as USB storage devices. Too bad, because that was the only drawback we experienced with the Chumby One.
Chumby especially excels at its alarm clock functions. You can choose to be woken up to a variety of Internet radio stations, including my favorite, Pandora, and you can program it to wake you up just on weekdays. Like most clock radios, it can delay its shutdown as you drift off to sleep. And, Pandora will play in the background while Chumby cycles through all your other widgets, at intervals you can configure. And its screen dims down to almost nothing, great for light sleepers who need total darkness but still need to see a clock during the night.
We're delighted with the Chumby One. It's reliable, eminently useful, and downright cute. What a great idea!

Copyright DVICE - DVICE