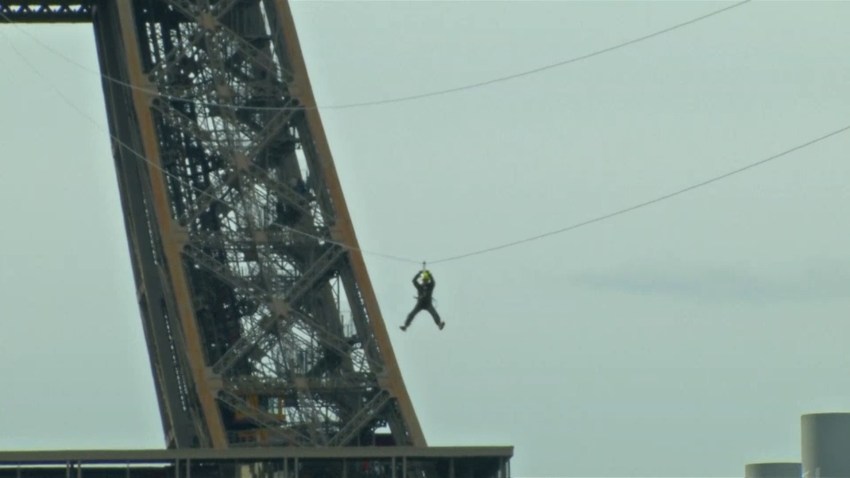 Yes it's free, but it is nearly impossible to get on that zip line in the City.

The freebie is a promotion to try to get us to travel to British Columbia and runs through April 18, but we can't think of anyone who could afford a BC vacation who would be willing to do what it takes to make that short thrill ride through Justin Herman Plaza. It looks like you have to be in line more than an hour before the thing opens if you want a chance to ride it before closing time at 7 p.m.

The wait and the crowds are typical for any free offer in the City. Apparently San Franciscans are a patient lot.

The lines have been forming more than 60 minutes before the official opening. After you stand there for at least an hour, or maybe two, you can consider yourself lucky if you walk away with a wristband. That band tell you when to come back to the plaza and wait in a second line, which will eventually bring you to the 80-foot tower.

Weekends are just as bad as weekdays. One fellow got in line at 9 a.m. Saturday for the 10 a.m. start. Around 10:30 a.m. he was informed all of the wrist bands were gone for the day. He was about the 50 person back who wasted his time and there were another hundred or so people behind him.

The exhibit, "The British Columbia Experience," was part of the Olympic promotion for visitors in Vancouver. It was so popular the ministry of tourism decided to bring it down to San Francisco to promote the province.

It does look fun for the lucky few who have the time. But don't drive up to the City just for this thrill, because you will most likely drive back home disappointed.