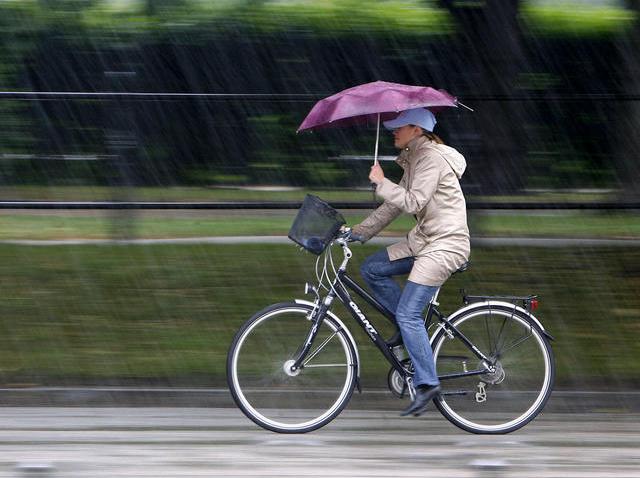 You might find yourself taking a doing a double-take at the calendar today when you look out the window.

It is, indeed April, but the weather looks and feels a lot more like December or January. A storm front moving through the region is bringing heavy rain, wind and snow to higher elevations around us. A downpour will make the morning commute a messy and slow-going affair.

The fast-moving cold front dumped .25" to .50" of rain early in the commute. For the rest of the day we'll be dealing with some very cool air aloft for this time of year moving through, coupled with sunny breaks and moisture below is a good recipe for pop up showers and isolated thunder.

Freezing and snow levels should drop closer to 4,000 feet or so during the afternoon, which means we could be hit with heavier showers that could bring small with it.

This latest weather also is somewhat ironic. This time last year we were busting out the tank tops and dealing with unseasonably warm weather. The Bay Area on the 20th & 21st last year experienced plenty of 90s and even a few isolated 100s.

So you think the rain is a pain? There is a bright side. Our typical rainfall season winds down in late March and early April, so for water agencies to see this much rain in mid to late April is a real resource bonus.

Three years of drought meant that some Northern California reservoirs had to receive more than 1 1/2 times the average annual rainfall just to make up some of the difference of recent dry years. This late April rainfall continues to make up some of that difference.

San Jose eclipsed its average annual total as of two weeks ago and continues to go more than 123% of average for the year.
California Dept. of Water Resources snowpack information.

Snowboarders and skirs could be playing on the slopes into the late spring as the Sierra snowpack statewide is nearly 105% of average. The storm will dump another foot of snow above 6,000-feet today at a time of year snowmelt is more common.

Things should begin drying out Thursday with another nice weekend in store.

But don't pack away the umbrellas yet. Next Tuesday-midweek looks like another fairly wet storm will drop in for the 4th significant storm of the month. Bad news for your commute -- great news for our local water reserves.

Rob Mayeda thinks it's time to get back to 70 and 80-degree weather, now that we're nearing our quota of filling reservoirs and full Sierra snowpack. The rain is getting a little old, even for him.