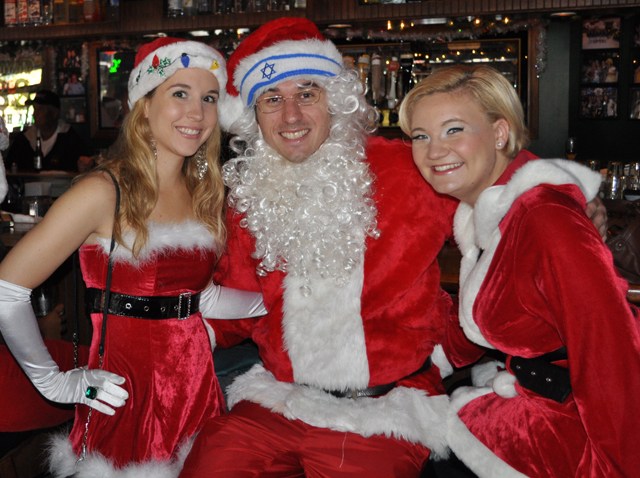 Friday, december 9, 2011
* Pancakes and Booze Art Show - 8:00pm - 2:00am
LA's Famous Underground Art Show has made a home in SAN FRANCISCO!!!...and is coming back Dec. 9th & 10th for a 2 DAY EVENT!!!...

VIEW THIS LINK TO GET AN IDEA OF PREVIOUS SHOWS!!!
http://vimeo.com/14915703
------------------
Nob Hill Masonic Center
------------------
Warfield Theatre
------------------
Saturday, December 10, 2011
You don't need to register anywhere to attend the San Francisco SantaCon. - just show up.
You don't need to pay to attend the San Francisco SantaCon. - it's FREE.
Details (time, location etc.) will not be released until a few days before - check sanfranciscosantarchy for these and other details.
You can follow Santa's Twitter feed to find out Santa's location during the day.
------------------
------------------
* Santa Claus in Japan Center Malls - Dec, 10, 11, 17, 18, 12-4pm
Only at the Japan Center Malls
1737 Post Street
San Francisco, CA 94115
------------------
Saturday December 10, 2011 at 10:00pm
Kelli Dunham is a genderqueer Brooklyn based ex-nun nerdcomic; a Wisconsin farmboi transplant who juxtaposes midwestern friendliness with New York attitude in a way that has been described as both "horrifying" and "hilarious." She has been seen on Showtime, the Discovery Channel and once—just once—emceeing a livestock auction.
In "Why Is The Fat One Always Angry" (her sixth one person show and her soon to be released third comedy CD) she continues on her quest to make comedy where slam poetry dares not tread.
The show will address the important questions of our time, such as:
Why were there so many failed tubal ligations the year Kelli was born?
Is it okay to call your mom for the sole purpose of obtaining comedy material?
How is the Bible like the DSM?
What does being over 40 have to do with dead rabbits and the butch ego?
How many library books can one person take on vacation anyway?
------------------
Sunday, December 11, 2011
* Santa Skivvies Run - 11a-2p

Ready, Set, Strip! End HIV!
The most fun you can have with your skivvies on!
Santa Skivvies Run is an underwear fun run through the Castro for a great cause
Check out more upcoming events on UpComing