There is treasure hidden under San Francisco's Mission High School.
Not the traditional type of gold and silver but a treasure trove of bones, crystals, and hands-on science experiments. It's the home of Mission Science Workshop, celebrating its 25th year of teaching the city's school children about science.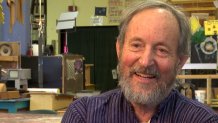 It all began with a revelation in Dan Sudran's garage in the early 1990's.
"There was just no question this is what I need to do the rest of my life," Sudran said.
Sudran, who never formally studied science, was tinkering on electronic equipment in his garage and leaving the door open at the time. Neighborhood kids began stopping by.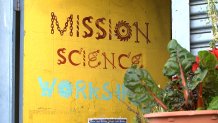 "I started finding out how much fun it was explaining this stuff I was excited about to them," Sudran said. "They were like, this was the hottest place on the block."
Sudran realized there was a need for hands-on science instruction that they young people clearly weren't getting in traditional schools. He decided to formalize what he was doing, moved into a bigger space and started the Mission Science Workshop.
[[420093763, C]]
Now housed underneath Mission High School, the Workshop is the rare place where students are encouraged to touch the artifacts and experiments; to both build things, and break them. The Workshop works with more than 30 San Francisco schools, hosting science classes. It is also regularly open for the public to explore for free.
"It was something completely different," Marisol Roman said. She first visited the Workshop as an elementary school student and now still comes back to volunteer as a 24-year-old.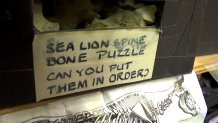 Roman says the experience influenced her ultimate course of study (osteology) and got her classmates excited about science like never before.
Sudran's latest project is assembling a portable horse skeleton, one that can be taken apart and put together just like a puzzle. He has already done the same thing with a whale.
Sudran says that, while the Workshop's focus is young people who don't have much, this is the kind of education every child could benefit from no matter where they come from.
"All kids are underserved in science," Sudran said.