As the big-wigs plunked down $26 a share Wednesday night to snap up shares of Twitter stock, the self-described little guys got vocal on Thursday to decry tax breaks for the social media company and rising rents in the city.

The loose group, "San Francisco Rising," kicked off a 6:30 a.m. rally at Twitter headquarters, 1355 Market Street, to coincide with when the company going public for the first time at the New York Stock Exchange. It's publicizing its event on Facebook, no less, the Menlo Park company that went public in May 2012. And on Twitter, it's using the hashtag #ThrownOutByTwitter.
After the bell rang, Twitter started trading at $45.10.
About 50 people were in front of headquarters at that time, some people were dressed in white - to represent corpses and "the death of the city" - and they lay down on the sidewalk. Others chanted and carried signs bearing the blue Twitter bird with an equal sign, saying it leads to gentrification. Police stood guard at the doors to watch over the scene.
"We are fed up with tax breaks for the billionaires," said Steve Zeltzer. "How about if we give priorities to the working people?"
Another rally is scheduled in front of Twitter at noon, and a "speak out" at 5:45 p.m. at City Hall.
Twitter representatives were not immediately available for comment. During a tour last week of the area surrounding Twitter, San Francisco Mayor Ed Lee touted how many businesses - and $54 million in expected tax revenues from those businesses over the next 20 years - are sprouting in the Central Market area because of those breaks. On the tour, he pointed out that the tax breaks have also meant a 60 percent drop in vacancy rates on Market Street between 5th and Van Ness avenues in the last two years.
MORE: Twitter Makes Wall Street Debut
The group of activists are upset with a tax break Twitter got from San Francisco in 2011, a deal that kept the company in the city, but possibly cost San Francisco $50 in lost taxes, according to the San Francisco Chronicle.
And they're also upset about the rising rents in the city.
Pray for us/stand with us tomorrow at Nov. 7th: Twitter Day of ACTIONS - #ThrownOutByTwitter as we, the evicted,... http://t.co/Ovf16oHsEO — Poor Magazine (@poormagazine) November 7, 2013
"There are things that do not get tweeted: Neighborhoods are being transformed and not for the benefit of the majority of San Franciscans," the group states on its Facebook page. "Average rents for a one bedroom apartment in the city have eclipsed $3,000 and long term residents—many of whom are seniors and people with disabilities—are very vulnerable to eviction via the Ellis Act by landlords who want to cash in on much of the tech money flooding the city."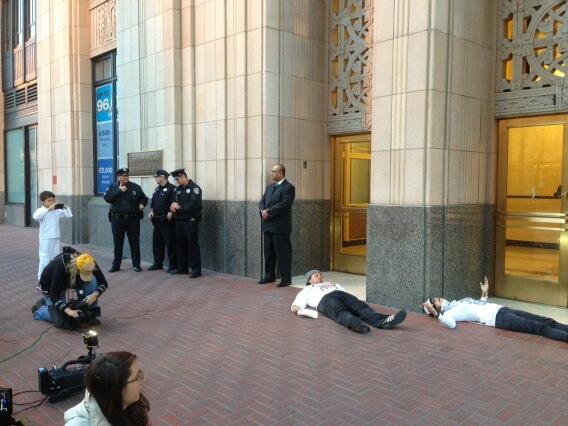 MORE: Experts Claim Property Owners Abusing Ellis Act Evictions

"Pray for us/stand with us tomorrow," posted Lisa Tiny Gray-Garcia on the group's Facebook page. "#ThrownOutByTwitter as we, the evicted, displaced, gentriFUKed, houseless and then forgotten elders, children, mamaz, families & folk stand up to the Tech billionaires, devil-opers, real estate snakkkes, stock-holders and even their intentionally "clueless" workers who continue to profit off, gain from our displacement, gentriFUKation and removal....#ThrownOutByTwitter."
The Twitter critics include: Senior and Disability Action, South of Market Community Action Network (SOMCAN), Jobs With Justice, Bill Sorro Housing Program, POOR Magazine/Prensa POBRE, Gray Panthers, Manilatown Heritage Foundation, SEIU-United Service Workers West, Housing Rights Committee San Francisco.