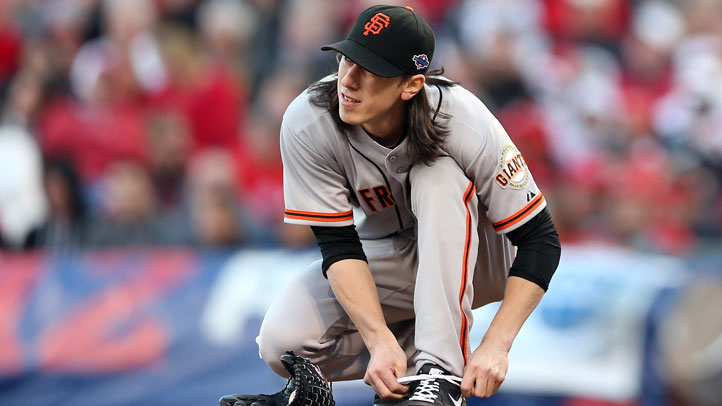 The Giants didn't have their usual advantage of three stud starters for the NLDS against the Reds, but they did get surprised with the way that Tim Lincecum pitched out of the bullpen. And he might have saved the series with his long relief.
Don't bank on Lincecum being available out of the pen in the NLCS though, as Bruce Bochy told KNBR on Thursday that he plans to "revamp" his rotation against the Nationals, and it's likely to include Lincecum.
"I think those two innings when he came through at home really raised his confidence and carried it to the game he pitched here so this is the guy we know and we will have to find a place for him," Bochy said, via Sports Radio Interviews. "This guy has too much talent and I know it's been an up and down year for him but the way he's throwing the ball now I think we will have to revamp this and find a way to get him in there."
It makes sense, particularly in a seven-game series. Lincecum pitched 6.1 innings of relief ball during the NLDS, giving up just one earned run on three hits, walking no one and striking out eight guys.
He pitched brilliantly from the stretch, which was a major problem for him during the regular season. And it's quite possible that having to come out of the bullpen -- in the playoffs as a two-time Cy Young winner -- finally flipped the switch for Timmy.
"This game can be humbling sometimes, and I think it was for him. And he was going to show that he could help this club," Bochy said. "Probably more than anything he bought into what we were doing. [Dave Righetti] and I talked about this -- if we had to bring someone out of the bullpen, Timmy was the best guy. He's the most resilient, he can give us innings there if there were any hiccups with the starters. And it couldn't have worked out any better."
It really couldn't have. Lincecum pitched great at home, but he was truly effective for the Giants on the road. When Barry Zito only made it through 2.2 innings, it looked like the Giants might be in trouble. After an inning from the bullpen, Bochy handed the ball to Lincecum and he pitched 4.1 innings of one-run ball, bridged the gap to Santiago Casilla and helped force a Game 5.
"It was good for him. You hate to say 'wake-up call,' but I think he did say 'wait a minute, I'm better than this,' and he showed it and that's what you like to see," Bochy said. "And like I said, we've got to get together and talk about this."
Bochy and Righetti and Brian Sabean ultimately will, the guess is here, decide to insert Lincecum into the rotation in the third spot. Ryan Vogelsong was good in his start, but being able to bring three stud pitchers in a seven-game series is a huge advantage.
And if Lincecum's wake-up call really worked, he's the kind of guy that can be a difference maker in a big-time series.