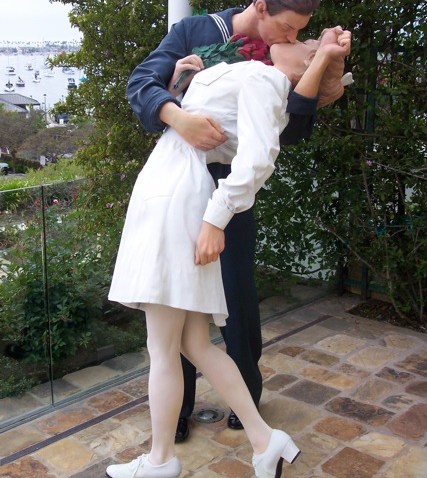 A sculpture of the famous "Times Square Kiss" will be on display starting Friday afternoon in front of the USS Hornet Museum in Alameda.

Seward Johnson's 6-foot sculpture was inspired by the iconic photograph taken by Alfred Eisenstadt of nurse Edith Shain being kissed by an unknown sailor on Aug. 14, 1945, the day President Harry Truman announced that World War II was over, according to organizers.

The sculpture has been driven across the country to be displayed as part of a national campaign to promote public awareness for National Spirit of '45 Day, which will be celebrated Aug. 14.

Friday is also Shain's 93rd birthday.

The sculpture will be on display from 1 p.m. to 2 p.m. at the USS Hornet, located at 707 West Hornet Ave., Pier 3 in Alameda. During that time there will also be a performance by the Singing Blue Stars.

As part of the national campaign, the sculpture will also be displayed Aug. 6 and 7 at Pier 45 at the foot of Taylor Street in Fisherman's Wharf in San Francisco.
Copyright BAYCN - Bay City News