A nondescript home in Fremont, California with a suspected gunman inside burned up early Thursday morning, and people around the world saw the drama unfolding online and on TV.
One of those viewers was Janice Murphy of Manteca, who said her grandparents lived in the "tiny, two-bedroom" house on Roberts Avenue in the Irvington neighborhood for 30 years until they died in the 1990s.
Police pronounced the gunman dead inside her late grandparents' former home that was built in 1928, capping a 16-hour saga that began Wednesday afternoon when Fremont police said he shot at two officers during a traffic stop. One officer was in critical condition; the other was listed in stable condition on Thursday.
"I have great memories there," Murphy said. "It wasn't always a house of pain."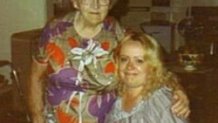 Lin Tan, the current homeowner, was in China when her 1,000-square-foot home was left severely damaged after a fire tore through it as authorities were trying to flush out the gunman with tear gas. Her sister-in-law, Lynn Zeng, told NBC Bay Area that Tan rented out the house to a couple in their 30s, who were not home at the time, but whose dog died in the fire.
Fremont police spokeswoman Geneva Bosques said that the department has given notification to the city attorney and risk manager "who will likely assist with any homeowner claims." Trulia estimates the home is worth $780,000.
Long before the priced soared that high, Murphy said her late grandparents, Claude and Agnes Shaw, were quite happy inside the now-scorched home that was so small, the living room also served as a bedroom. She remembers her grandmother tending to the garden outside for hours beginning in the 1960s.
"She worked so hard on it," Murphy said.
And despite the size, her grandparents hosted family holidays, threw birthday parties and held Thanksgiving dinners there, and was the go-to spot for relatives after Sunday church. She also recalled the house's windowless basement, where she envisioned the gunman hiding during his standoff with police.
"It was so sad to see this morning," Murphy said, "when I saw it burning up on the news. I am so glad my grandparents aren't here to see what happened to their house, because regardless of the fact that so many people remember happy times spent with family there, it will forever be a symbol of violence and pain. They would be heartbroken."
NBC Bay Area's Jodi Hernandez contributed to this report.
[[381572861, C]]