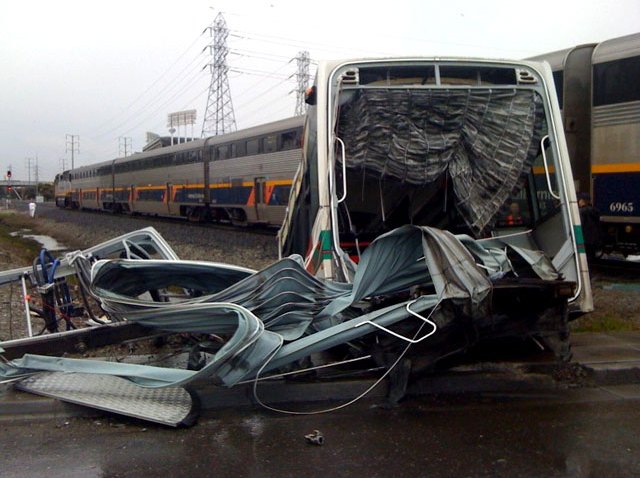 An Amtrak train with 40 passengers on board slammed into an AC Transit bus that got stuck on the tracks in Oakland early Wednesday morning, splitting the reticulated bus in half.

The train, which runs from San Jose to Sacramento, crashed into the bus at about 6:30 a.m. in the area of 66th Avenue and San Leandro Street. The bus driver saw the train barreling toward him as the bus was stalled on the tracks. He was able to get out and escape injury. Passengers on the train said they felt the impact and were a bit shaken up but nobody was hurt.
One of the women traveling on the train said she watched as half of the bus went flying through the air. Some of the train passengers said they didn't realize they had hit a bus but were surprised when the train hit the brakes. Overall, they were shocked and shaky but happy nobody was hurt.

There were no passengers on the bus, which was heading into service for the day, but it was fully loaded with fuel and there were concerns that it could be draining into the nearby estuary.

The Oakland police and fire departments responded to the scene.
Investigators are trying to figure out why the bus stalled.