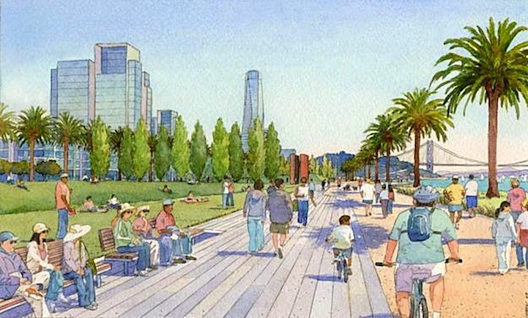 So San Francisco's finally forking over no small amount of money to buy Treasure Island from the Navy but is the plan to redevelop the island actually workable?
Critics point to the sinking island and the threat of rising sea levels, but the project apparently has the thumbs up from the Bay Conservation and Development Commission, a body that's previously spoken out about the dangers of rising waters in the Bay Area.
What makes Treasure Island okay, they say, is all the preperation for water issues that's already been baked into project plans.
The island will be surrounded by a dike that will double as a waterfront trail ("Treasure Trail," anyone?).
The settling dirt from the fake island will be packed and stabilized, and the "town center" will also be built higher than San Francisco's current sea wall, not to mention 300 feet inland. And finally, according to Michael Cohen, Gavin's front-office man on this, "It's all supported by revenue the project generates."
Island fun world, here we come!
Copyright CURBS