As Inauguration Day approaches and Donald Trump is on the verge of taking oath as America's 45th president, millions across the country are protesting and speaking out against him becoming the nation's next leader.
But some in the Bay Area can't wait for a Trump presidency. In fact, they want to be there for the historic day.
Trump supporter Juan Hernandez, of Santa Clara, got his hands on a ticket to the inauguration, and he can't wait.
"It's overwhelming at times, and it's totally exciting," he said. "I did a lot of work with the campaign since June. It was my life. And then ... in the mail, the Presidential Inaugural Committee sent me my invites."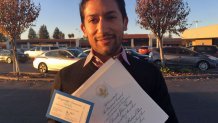 Hernandez won't be alone. He said he is among hundreds of Trump supporters from California who just received their invitations to see the president-elect take the oath of office in Washington, D.C., on Friday.
In the nation's capital Sunday, rehearsals and inauguration prep were underway. They were conducting run-throughs with stand-ins for the new president and first lady, ensuring the pageantry is perfect, all while giving tourists a show before the feature presentation.
With much of the buzz centering on nationwide protests, boycotts by members of Congress and wars of words on social media, Trump supporters are not letting the headlines get them down. They are counting down the hours until their moment to witness history.
"It's the inauguration. It's once in a lifetime," Hernandez said.