Three separate but related accidents in Crockett Thursday morning tied up traffic, killed a driver and seriously injured a pair of paramedics who were on their way to pick up a neonatal patient in Davis, officials said.
California Highway Patrol officer Frank Meranda said that he believes the accidents on Interstate Highway 80 are connected, because of the backup created after the first accident involving an ambulance that struck a truck at a construction site.
"We figured it all stemmed from the prior collision," Meranda said, noting both occurred about a mile away from each other east of the Cummings Skyway.
At 6:30 a.m., all lanes of eastbound Interstate Highway 80 had reopened.
The first accident was reported about 3:30 a.m. when a UCSF Benioff Children's Hospital in San Francisco ambulance ran into the back of tractor truck at a construction area near Carquinez Bridge, according to CHP Sgt. Jennifer Mapa. The ambulance driver didn't see that the truck was stopped in the road, and when she tried to make a lane change, couldn't make the lane change fast enough, even though she tried to swerve left, Mapa said.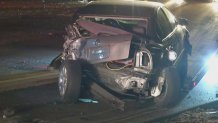 It was first reported that a nurse was inside, but the CHP later said there were two paramedics inside the ambulance. They were taken to the hospital, both suffering major injuries.
As that accident was almost clearing, a big rig ended up running into a separate crash, involving three vehicles, which was first reported at 1:30 a.m., the CHP said. In that accident the big rig driver crashed into a Mazada, killing the driver.