Two people in a stolen BMW were killed in a fiery car crash as they fled officers in a high-speed chase from Oakland into San Francisco early Wednesday morning, authorities said.
The driver and passenger were both ejected as their car crashed at the Fifth Street off-ramp off Interstate 80 and burst into flames. Authorities said they were going 120 mph per hour when they crashed.
Both victims were pronounced dead at the scene. They have not yet been identified.
The deadly crash, the second in the area in 10 days, prompted the closure of the westbound Interstate 80 off-ramp at 5th Street in San Francisco, after a Sig-alert was issued at 3:19 a.m. The off-ramp was re-opened shortly after 9 a.m.

The chase had begun in Oakland when California Highway Patrol officers noticed the car the two were in was a stolen older model BMW with the license plate SNBEEMR.
Two officers tried to stop the BMW as it was heading to the toll plaza area, but the driver wouldn't stop and instead sped up near the Bay Bridge tower, CHP Officer Sean Wilkenfeld said.
Wilkenfeld said it's common for officers to check the plates of cars, especially at that hour of the morning.
The CHP's Advanced Crash Investigation Team scoured every inch of the crash scene to determine rates of speed and impact. As for the chase, CHP says officers followed protocol during the chase, keeping it limited to two patrol cars involved in the pursuit at a time.
On June 15, a homeless person died at the same off-ramp. And Wilkenfeld said there was another crash in that area, also within the last week and a half.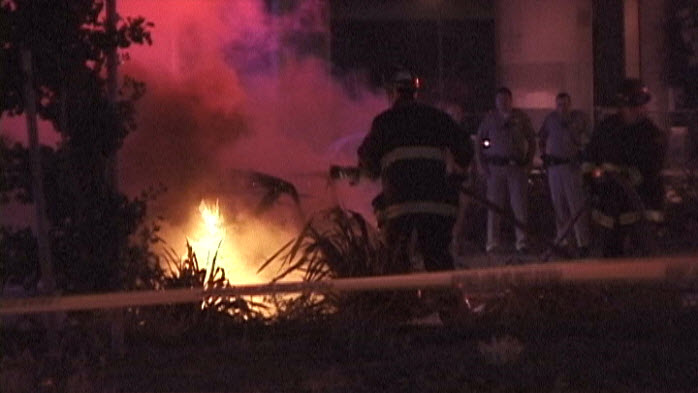 NBC Bay Area's Shelby Hansen and photographer Steve Rose contributed to this report.