The two inmates who pulled off a brazen escape from a courthouse in Palo Alto on Monday remained at large Tuesday, but two alleged co-conspirators were arrested, according to the Santa Clara County Sheriff's Office.
Marquita Kirk, 44, was taken into custody at a residence in Sunnyvale, sheriff's officials said, and 54-year-old Rene Hunt, of East Palo Alto, also was arrested for aiding in the escape of inmates Tramel McClough and John Bivins.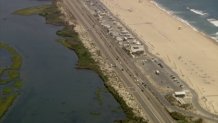 Kirk rented a getaway U-Haul van and staged it near the courthouse, officials said. Witnesses observed the escapees fleeing in a U-Haul shortly after their escape.
It was not clear how Hunt was involved, but sources say he was associated with the getaway car parked outside the courthouse.
"Detectives told me that they did develop information that he was very involved in its planning and execution," said Carl Neusel, Santa Clara County undersheriff.
Kirk, who had a long-standing relationship with escapee McClough, was arrested on felony charges of conspiracy and accessory after the fact, sheriff's officials said.
McClough, 46, and Bivins, 47, were leaving a courtroom around 9:30 a.m. Monday when they made a beeline for an exit, hopped in a getaway car and drove two to three blocks before jumping into the U-Haul cargo van and fleeing again, sheriff's spokesman Sgt. Reggie Cooks said.
"We believe that it was an orchestrated escape where the individuals had a car staged," Cooks said.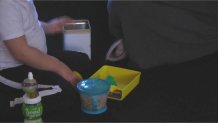 Bivins is described as being 5 feet, 9 inches tall and 180 pounds, with brown eyes and black hair, the sheriff's office said. McClough is 6 feet, 4 inches tall and 285 pounds, with brown eyes and black hair. Both men are East Palo Alto residents, sheriff's officials said.
Sheriff Laurie Smith on Wednesday announced her office is offering a $25,000 reward for information leading to the fugitives' capture.
Sources told NBC Bay Area the suspects were with other inmates in a spiral staircase inside the jail, shackled and guarded by two deputies. Bivins and McClough then used a key to unlock their restraints and attacked one of the deputies before bolting out a front, unguarded door, the sources said.
The men fled the area wearing jail clothing consisting of orange and gray shirts, Cooks said. Later Monday, police found a handcuffs key outside the courthouse in the pair's path of escape.
The Sheriff's Office said it is running a 24-hour investigation operation into locating the escapees. Deputies stopped the search in the city of Palo Alto on Monday, saying they believed the escapees fled the area.
Bivins and McClough were being held without bail after robbing a Verizon store of $64,000 in merchandise in February. Police have said they tied up the store employees, forced one to open a safe and were arrested a short time later after a car chase.

If anyone sees the men, they are asked to call 911 immediately. People should not approach or try to detain the men. It is not clear if they are armed.
"The level of sophistication and the brazenness that it takes for the individuals to (escape) is why we are calling on the public and other allied agencies to help," Cooks said.
The deputies union says there should be more guards on duty.
"Its just a matter of time before the bad things start to happen because of the understaffing," said Roger Winslow of the Deputy Sheriffs Association.
Neusel, however, said the courthouse actually was overstaffed Monday, with 15 on duty, instead of the usual 13.
"We're going to do a recause analysis of how the event happened and what lessons we've learned and what we can improve," he said.
NBC Bay Area's Ian Cull and The Associated Press contributed to this report.