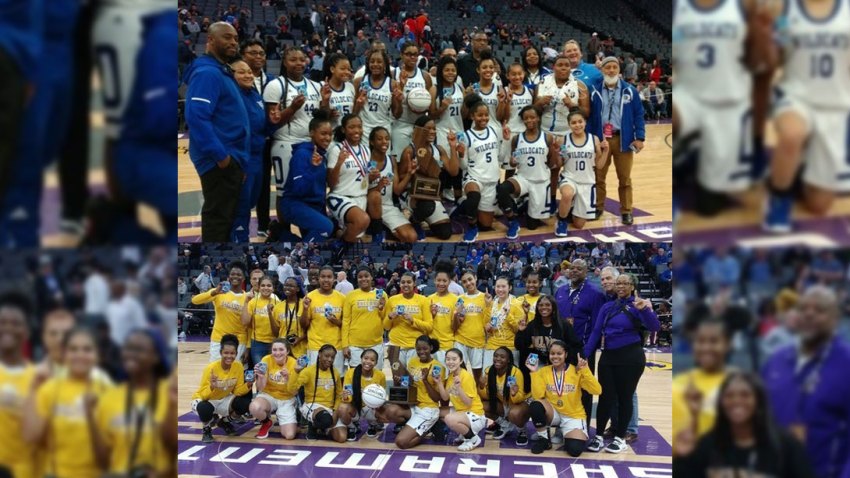 Two championship girls basketball teams from Oakland high schools will be widely feted in the streets Friday as their victory parade winds its way through dozens of neighborhoods.
Players from the state champion Oakland High School Wildcats and Oakland Technical High School Bulldogs will ride though the city in open trolleys, complete with a police escort, cheer teams and state dignitaries.
The rolling celebration kicks off at Oakland Tech at 12:30 p.m. and will slowly cruise past 10 other schools before taking a turn though downtown Oakland and ending up at city hall about 2 p.m. for a banquet and rally that begins at 4 p.m., according to Oakland Unified School District spokesman John Sasaki.
"We love celebrating these girls," Sasaki said. "These are remarkable student athletes. Anytime you win a state championship, that's a huge thing. When you win two, that's historic."
Never before have two girls basketball teams from Oakland held state championship laurels at the same time, Sasaki said.
The Wildcats took home their first state title ever on March 8 when they won the California Division 3 Championship. The Bulldogs won their first title in 14 years after coming out on top in the Division 4 Championship game on March 9, according to Sasaki.
"This will be a perfect celebration for our girls," Sasaki said. "It's all about making sure that they know how valued they are in the city of Oakland and at OUSD."
In addition to stops at Oakland Tech and Oakland High, where the girls will spend about 10 minutes basking in the appreciation of their fellow students, they will visit Lincoln, Franklin, Cleveland, and Bella Vista elementary schools, in addition to La Escuelita and MetWest High, Dewey and Street academies, and Westlake and Edna Brewer middle schools.
Joining them on their journey around the city will be state Sen. Nancy Skinner, D-Berkeley, and Assemblymember Rob Bonta, D-Alameda.
Also, Olympic gold medallist and former WNBA player Ruthie Bolton will be attend the city hall rally.
Copyright BAYCN - Bay City News