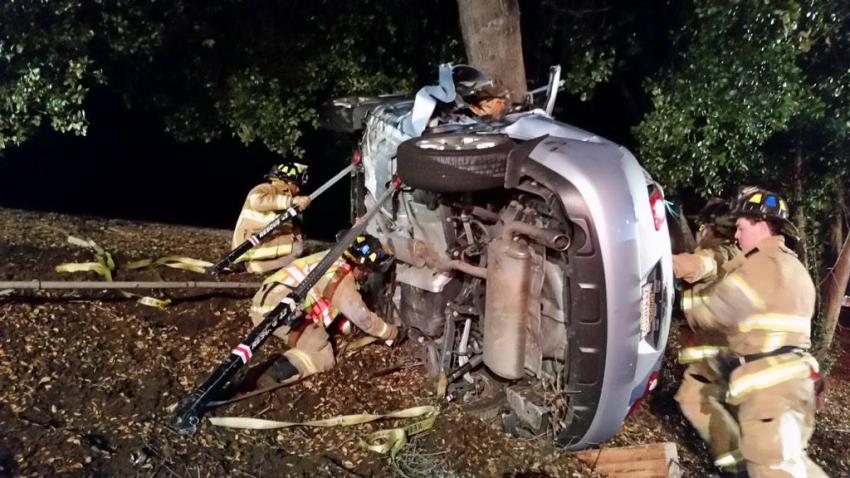 Fire crews extricated two people from a vehicle that slid down an embankment in Concord Saturday evening and landed against a tree, according to fire officials.
A fire dispatcher said fire crews responded to a report of a collision at 6:18 p.m. in the area of the Willow Pass Road exit off of Interstate Highway 680.
Contra Costa County Fire Protection District Battalion Chief Keith Cormier said when fire crews got on scene, they saw one vehicle on its side and another that had crashed into a tree.
The two people inside the car that was against the tree had to be extricated and Cormier said firefighters used hydraulic rescue tools, also known as Jaws of Life, to remove them.
"Both were able to climb out and were treated on scene," Cormier said.
They were then transported to a hospital with minor injuries, he said.
The two people in the vehicle that landed on its side were both able to get out of the vehicle and refused medical care.
Cormier said a total of 11 firefighters responded and the extrication took about half an hour. The California Highway Patrol also responded to the collision.
The dispatcher said fire crews cleared the scene at 7:19 p.m.
CCCFPD Q1 T6 E2 SQ6 work on freeing trapped occupants Willow Pass and 680N pic.twitter.com/49G6jC0IUO — PIO (@ContraCostaFire) February 8, 2015
Copyright BAYCN - Bay City News