Police say they're trying to track down an Uber driver accused of assaulting a Mineta San Jose International Airport employee who confronted him about driving fast through the airport on Thursday.
The incident, first reported by the San Jose Mercury News, occurred around 9:50 a.m. Feb. 18 when the victim saw a man speeding by in white Mercedes, although surveillance photos released by police Tuesday indicate the vehicle may have been a Ford. He followed the driver who pulled over and parked outside the airport's car rental facility, police said.
The employee told the suspect he was driving too fast on airport grounds and took photos of the man and his vehicle, in which he noticed an Uber sticker, according to police.
The Uber driver, however, proceeded to get out of the vehicle and approach the employee. He then grabbed the victim's shirt, yelled at him and pushed him, police said.
When the suspect's fare arrived at the location, he climbed back into his car and took off, police said.
The driver, who is still at large, is described as being a dark-haired man in his 40s, standing 5' 10" tall and weighing about 175 pounds.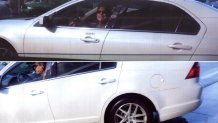 Taxi driver Raheem Omer said he was concerned by the attack but not surprised.
"I have to give fingerprint and background check — [Uber drivers] don't have to," he said. "You really don't know who's driving them."
Uber has only been officially allowed to pick up passengers from San Jose's airport for two months.
Now, Shakur Buni, who presides over the San Jose Airport Taxi Driver Association, believes city officials should reconsider allowing ride-sharing companies to pick up fares at the airport.
The underlying issue is that their drivers don't go through the same security checks as other taxi drivers, Buni said.
"We have a big public safety concern," he said.
Uber released a statement Tuesday, saying: "We have a zero-tolerance policy for violence of any kind while driving or riding with the Uber platform. Our safety team is currently looking into this incident, and we have reached out proactively to law enforcement officials to offer our assistance in their investigation."
Last week's alleged assault occurred two days before an Uber driver in Kalamazoo, Michigan – identified as 45-year-old Jason Brian Dalton – allegedly gunned down six people and injured two more in between picking up and dropping off fares.
Uber has said Dalton passed a background check and had no criminal record. The company also said it was "horrified and heartbroken" over the incident.
People with information about the incident outside San Jose's airport are asked to call the San Jose Police Department's Assaults Unit at 408-277-4161. People who want to stay anonymous can call the Crime Stoppers Tip Line at (408) 947-7867.
Anyone who provides information that leads to the arrest and conviction of the suspect may be eligible for a cash reward from the Silicon Valley Crime Stoppers.