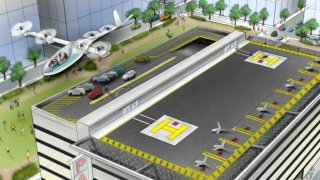 Just four months after officially joining the flying car revolution, Uber has added a big name to orchestrate its innovative plans.
Mark Moore, a 30-year veteran of NASA, is ditching the government agency to take on Uber's director of engineering for aviation gig, according to the ride-hailing company. Moore's primary role is to enhance the San Francisco company's flying car strategy coined Uber Elevate, a program originally outlined in a 98-page white paper released in October.
The enticing and futuristic proposal would work like this: Uber users would catch a traditional ride or walk to a neighborhood "vertiport." Riders would then climb aboard a flying car and float to another "vertiports" located near the rider's destination.
Uber won't actually be constructing these vertical takeoff and landing, or VTOL, gizmos. The ride-hailing service plans to collaborate with other companies leading the charge in the flying car industry.
"Uber continues to see its role as a catalyst to the growing developing VTOL ecosystem," Nikheil Goel, head of product for advanced programs at Uber, wrote in a statement. "We're excited to have (Moore) join us to work with companies and stakeholders as we continue to explore the use case described in our white paper."
Before any flying cars operated by Uber are zooming above clogged commutes, a slew of issues, including noise pollution, battery life, safety and air-traffic concerns, will need to be checked off of the to-do list. Moore's expertise is being tapped to address those concerns.
The San Francisco-based company isn't the only collective thinking about the future of transportation, as reported by Bloomberg. Google co-founder Larry Page is said to have commissioned Zee Aero and Kitty Hawk — two startups in the Silicon Valley — to create flying car capabilities.