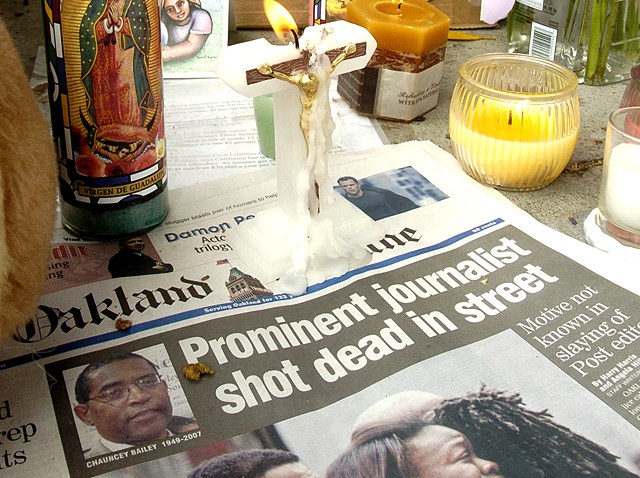 It was August 2, 2007 -- Oakland journalist Chauncey Bailey was shot and killed on his way to work at the Oakland Post. Someone wearing a ski mask shot him in broad daylight on a street corner downtown during the morning rush.
It was a high-profile killing that brought out Oakland's top brass. Even the police chief stood in amazement on the corner where Bailey was gunned down in broad daylight. Hours later, it was announced that the victim was someone familiar around city hall and the streets of Oakland.
Zachary Stauffer was a UC Berkeley student at the time working in Washington, DC. When he heard about the horrible killing, he decided it could be the theme of his Master's Thesis so he went to work creating a documentary.
Tonight, PBS will air Stauffer's 30-minute film, "A Day Late in Oakland," as part of their Truly CA series. The story crosses the lives of Bailey with Yusef Bey, the man suspected of ordering his killing, and Bey's business, Your Black Muslim Bakery. Bailey was looking into the bakery's financial troubles and writing a series for the newspaper when he was killed.
Stauffer tried to talk with key members of the Bey family but they turned down his request. He did talk with some of Bailey's co-workers and family.
Stauffer says the documentary is not a criminal investigation but, rather a look at the layers of history, racism, politics and power. How did these layers provide the backstory for the murder of Chauncey Bailey. www.adaylateinoakland.com