UC regents are spread out across the state for an unusual board meeting Monday.
The UC Board of Regents canceled a meeting last week after law enforcement warned that protests could turn violent.
The board instead decided to hold a teleconference-type meeting from its Los Angeles, Davis, Merced and Mission Bay campuses.
One of the first items spoken at the meeting was by U.C. President Mark Yudof. He called for the partial restoration of funding for the system in the next budget negotiations.
"State disinvestment has placed a tremendous strain on the university," reducing the state's contribution to the UC system from $3.2 billion to $2.3 billion over the past few years, Yudof said.
The Mission Bay meeting in San Francisco was held in a smaller room than the normal location but was packed, according to NBC Bay Area Damian Trujillo as protesters wanted their voices heard.
Board of Regents chair Sherry Lansing said she was "personally shocked and appalled" at the police actions and said the meeting was held jointly at the four campuses "to give the UC community an even greater opportunity to be heard."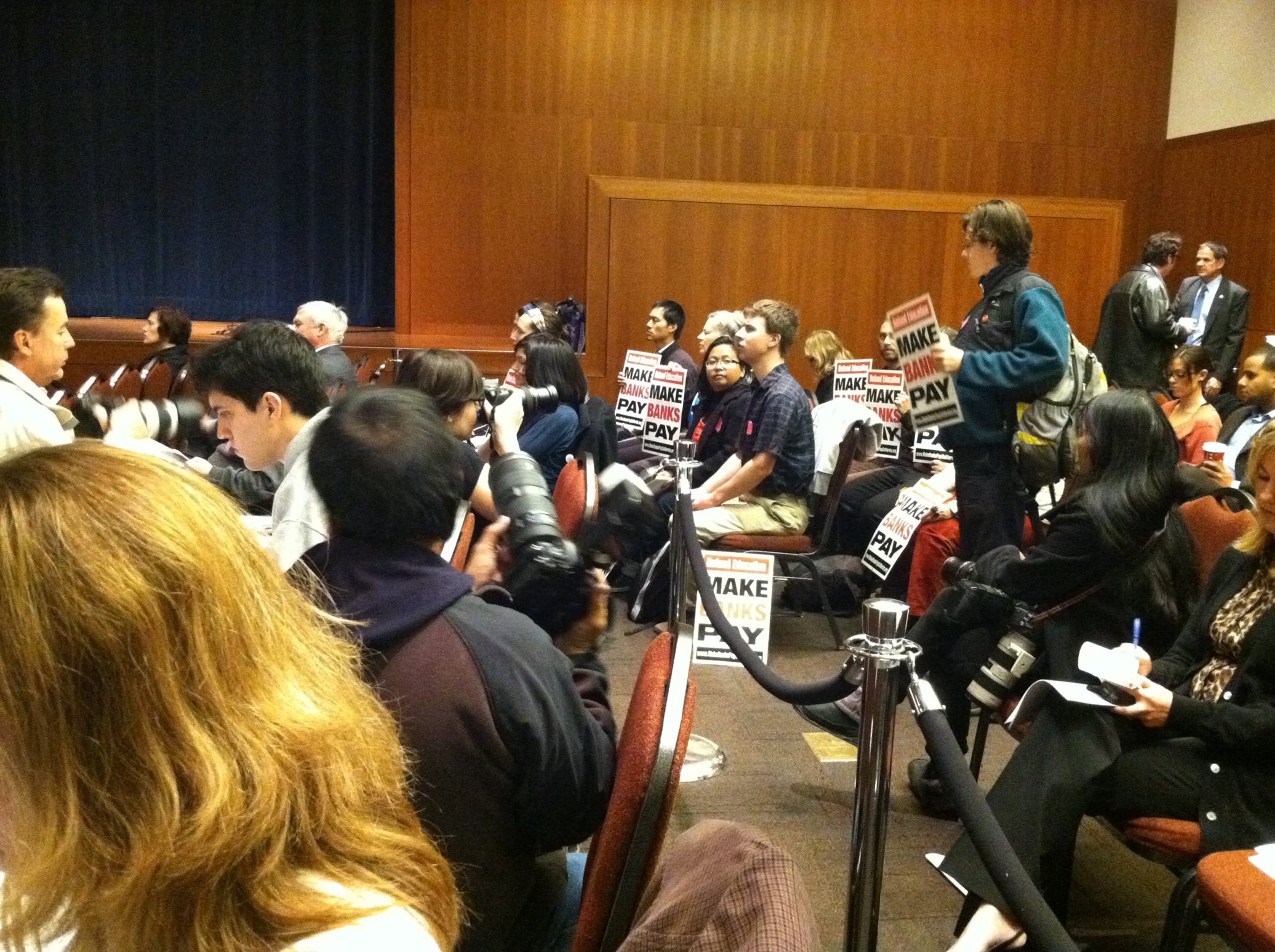 The UC Davis part of the meeting only had student regents participating. KCBS reporter Bob Melrose said a last-minute decision was made to pull the professional regents from the Davis campus because they did not want a large police presence on campus.
The format of the meeting gave each person one minute to make his or her case. Most spoke to tuition increases and budget cuts, according to reporters. Students said they were also angry about the recent crackdowns on Occupy camps. Speakers said they would also call on banks and the wealthy to pay more taxes to fund higher education
Neither tuition nor the Occupy movement was on the agenda.
Lansing said at the end of the public comment period that she "would like to continue this dialogue" with a tour of various UC campuses by some of the regents.
"We hear you, and we share your concerns," she said.
Assembly Speaker John A. Pérez said following the meeting that he found issues emerging from the speakers that showed a concern to ensure every Californian has access to our system of higher learning.

"Today's UC Regents meeting clearly showed the deep concern felt by every Californian about the events that have occurred at various campuses the past few weeks, and I was very encouraged by the articulate and passionate voices of the students attending the meeting. I reiterated my call for an independent investigation into the incidents at UC Berkeley and UC Davis because students, parents and taxpayers deserve to have answers to the troubling questions these incidents have raised," Perez said.
Also on Monday, students planned a general strike on the UC Davis campus. That campus is still reeling from a widely publicized pepper spraying of non-violent protesters more than a week ago.
Copyright AP - Associated Press