An NBC Bay Area investigation into the loss and theft of police firearms uncovered more than 500 weapons have gone missing from eight different law enforcement agencies, including the California Highway Patrol, the federal Drug Enforcement Administration and six local departments since 2010.
The investigation found the problem of lost and stolen law enforcement weapons goes far beyond the gun stolen from a Bureau of Land Management ranger's vehicle in San Francisco. That gun was later tied to the shooting death of Kate Steinle on Pier 14 in San Francisco on July 1, 2015, police confirm.
NBC Bay Area's investigation uncovered hundreds of guns missing from Bay Area law enforcement agencies, stolen from officers' homes or vehicles, or simply unaccounted for. The BLM, the agency responsible for the gun that killed Steinle, did not respond to NBC Bay Area's open records requests submitted in July, shortly after the shooting, and the question of how many firearms that federal agency can't account for remains open.
The NBC Bay Area Investigative Unit filed California Public Records Act requests with law enforcement agencies at the federal, state and local level following Steinle's death, seeking records pertaining to the loss or theft of law enforcement firearms. In the Bay Area alone, six local law enforcement agencies can't account for at least 379 firearms since 2010 because of loss or theft. The weapons unaccounted for include military grade assault rifles such as AR-15s and M16s, sniper rifles, shotguns, a gas grenade launcher and hundreds of handguns. The vast majority of those weapons have never been recovered.
One agency, the Oakland Police Department, refused to turn over records or say how many guns the agency couldn't account for, saying the records were exempt from disclosure as part of criminal investigations, even though other law enforcement agencies readily turned over similar records.
Out of the six local law enforcement agencies that provided records to the Investigative Unit, the San Jose Police Department was responsible for 324 firearms discovered missing during a 2010 audit of the department's inventory. San Jose Police gave NBC the entire audit and was transparent about the problem of unaccounted weapons there.
"Back in 2010, we proactively did an audit of the range and we discovered that we have about 300 guns that are unaccounted for," said deputy chief Phan Ngo. "Totally unacceptable."
Ngo said decades of poor recordkeeping is to blame for the missing guns and that inventory controls have been tightened since the audit.
"I'm always concerned when we have about 300 guns that are unaccounted for," he said. "We're doing our best to ensure that the situation doesn't occur again in the future." Even so, Ngo admitted only a handful of those missing guns have been recovered or located to this day.
The majority of the missing weapons from San Jose police were handguns issued to officers. But the department's audit also discovered they were missing six sniper rifles, two M-16 rifles, 10 40mm launchers, and 49 shotguns. According to police records, only 16 of the lost guns have been located since the audit, which also found 2,448 of the department's weapons were never
registered with the U.S. Department of Justice.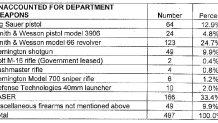 "We need to know that when law enforcement officers are given the privilege to carry around weapons, that they are going to be held to the requirements that are imposed in making sure they're secured and not easily available for criminals to use in crimes," said Frank Pitre, the attorney representing the Steinle family.
Pitre filed a claim in August against the BLM on behalf of the Steinle family, alleging the gun the caused Steinle's death should have been locked and secured in the BLM ranger's vehicle.
NBC Bay Area's Investigative Unit found dozens of other firearms stolen from the vehicles and homes of Bay Area law enforcement officers, including 10 from the San Francisco Police Department since 2010, and six from the Santa Clara County Sheriff's Department. In August, a thief stole the gun and badge of UC Berkeley Police Chief Margo Bennett from her personal vehicle. A statement released by UC Berkeley said the chief had been the victim of an auto burglary while jogging near Point Isabel Regional Shoreline in Richmond, but did not say if she would face any disciplinary action as a result of the theft.
Statewide, the California Highway Patrol lost 35 firearms, all but three of them stolen, according to records obtained by the Investigative Unit. Six of those guns, including two AR-15 rifles, were stolen in one incident. According to CHP records, the guns were taken from two officers' vehicles as they ate lunch at a Southern California Claim Jumper restaurant in 2013. The guns stolen from the CHP vehicles included Colt rifles, Remington shotguns and the officers department issued side arms, Smith & Wesson .40-caliber tactical semi-automatic handguns. According to the CHP's own records, department-issued weapons were also stolen from officers' cars parked in a CalTrans lot, at hotel parking lot in Sacramento, a parking lot outside a Barnes & Noble and a lot at a bank in Alameda.
"We've spent quite a bit of time focusing on the issue of stolen firearms in this office," said Graham Barlowe, Resident Agent in Charge of the U.S. Bureau of Alcohol, Tobacco, Firearms and Explosive's Sacramento field office.
It's not just guns stolen from law enforcement, Barlowe said, but also guns stolen from everyday civilian gun owners that pose a safety risk for everyone. Just over 1 million guns were reported stolen from civilians nationwide since 2010, according to FBI records obtained by the Investigative Unit. Barlowe said some of those guns will undoubtedly be used in violent crimes.
"Very often, stolen firearms fuel other crimes," Barlowe said. "They're specifically targeted for other crimes. So when some people see a statistic of a burglary, I see a future robbery. I see a future homicide. And so I'm very focused on identifying who's responsible for that and putting it to an end."
In fact, that very thing happened in October when a gun allegedly stolen by three transients from a vehicle parked in San Francisco was used to kill a Canadian tourist and a man walking his dog near Fairfax in separate incidents.
But that gun is just one among thousands stolen each year in California. At least 57,792 other firearms have been stolen in California since 2010, according to state Department of Justice records obtained by the Investigative Unit. In the Bay Area alone, 268 guns were stolen in just the first two months of this year. Next to cash, firearms are one of the most valuable items a thief can steal, Barlowe said.
"In this day and age of technology, most of the electronics don't really have any value at all," Barlowe said. "The firearms do. Even an old firearm is still valuable."
It's still not clear how the gun that killed Kate Steinle ended up in the hands of the alleged shooter after being stolen from a BLM ranger's vehicle in San Francisco. The agency has not yet responded to a Freedom of Information Act request filed by NBC Bay Area in July, and the Steinle's attorney said they haven't received any answers either.
"The real-life tragedy played out," Pitre said. "There was a gun stolen from a BLM ranger's car, left in a backpack that was in plain view. She's not with us, and she'd be here today if somebody took the simple precaution which was required."
Pitre said he expects to get more answers from the agency as the case progresses and hopes Steinle's death will serve as a wakeup call for those who take gun ownership too lightly.
"I don't want to see that another gun has been stolen and that another life has been taken," Pitre said. "Too many lives have been lost already. It's got to stop."