There is a definite theme that runs through much of Priscila Soares' artwork.
In her Mare Island studio, the Brazilian-born multi-media artist creates work after work that are meant to share the stories, experiences, and feelings of people living with disabilities. Scattered about her workspace there a marionette with a cochlear implant as well as the sculpture of a boy with wings for ears soaring out of a wheelchair in the painting behind him.
Soares' work is greatly influenced by two personal experiences with disability. She suffered severe hearing loss at age 17 and her older son was born deaf.
"Everyone has a story that can be amazing and unique," Soares said of her work. "That doesn't make them better or worse than you. They are all beautiful stories."
Soares' latest creation does not, at first glance, appear to fit in with the rest of her work, however.
It is a 5-foot-tall, 10-foot-long velociraptor she has spent the better part of the past few months working on. Soares, however, said it fits right in with her overarching goal: to help those with disabilities.
The velociraptor is actually a massive costume designed to fit around a child's wheelchair, giving the impression that the child is riding the dinosaur.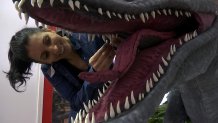 That child, it turns out, is 10-year-old Christian Guerrero and the whole thing is a surprise for him.
"This is extremely rewarding to me," Soares said.
Soares was given the task of creating the costume by Magic Wheelchair, a non-profit that helps create elaborate costumes for children in wheelchairs. Pictures on their website show wheelchairs turned into monster trucks, pirate ships, and eagles to name just a few. When Soares learned about Magic Wheelchair a couple of years ago she was touched and signed up to volunteer.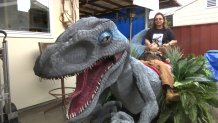 Earlier this year, she got a call.
"They said, 'OK, Priscila, here's a family. Family, here's Priscila. The kid's an awesome ten-year-old. His name is Christian and he likes velociraptors. Good luck,'" Soares recalled, laughing.
Soares knew nothing about dinosaurs or, for that matter, creating costumes for wheelchairs but she dove into the project, enlisting friends for help and watching hours of tutorial videos.
Soares estimated she spent 100 hours working on the costume.
This past Saturday, came the payoff for all the hard work.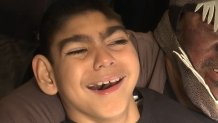 Soares drove the costume to Guerrero's home in Redwood City and in front of dozens of friends and relatives unveiled the creation.
Due to his cerebral palsy, Guerrero cannot speak but a big smile came across his face when he saw his wheelchair enveloped by the dinosaur. Within minutes, his parents had him in the chair "riding" the fantastic beast.
"I'm speechless," Rosa Guerrero, Christian's mother, said. "Usually we attract attention because we have a special needs child in a wheelchair and now with this amazing opportunity he's going to get attention for a whole different reason. Just look at this."