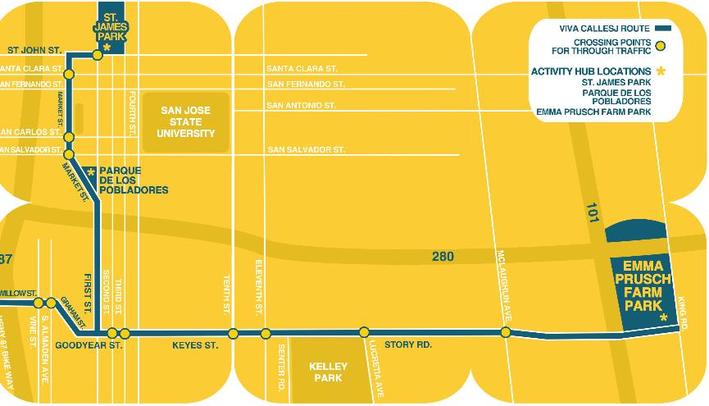 San Jose's inaugural "VivaCalleSJ" event on Sunday will use six miles of roadway as a public park for the community.
The event from 10 a.m. to 3 p.m. will feature activities for people of all ages from downtown to East San Jose, city recreational supervisor Ed Solis said. People can walk, bike and skate on the route that starts downtown at St. James Park, goes down through Market Street and First Street, continues into the Calle Willow Business District, heads east to Keyes Road and Story Road before ending at Emma Prusch Park.
"This is not a race. People can start from wherever they like," said Carlos Velazquez of Silicon Valley Bicycle Coalition, which is partnering with the city for the inaugural event. The event will allow people to see the city in a new way by going out along the 6-mile route that can be filled with 30,000 to 40,000 cars, Solis said.
The program kicks off at 9:15 a.m. at King and Story roads with an address by Mayor Sam Liccardo and other elected leaders including council members Raul Peralez, Magdalena Carrasco and Tam Nguyen in addition to a performance by San Jose Taiko.
Afterwards, a "Heroes Ride" will dedicate the first mile of the route to fallen Officer Michael Johnson, who was killed by an armed suspect while responding to a call for service on March 24.
At 10 a.m., the program will begin with a performance by Mariachi Azteca.
"The 50 Tour: Champions of the Bay" will display Super Bowl trophies won by the San Francisco 49ers and Oakland Raiders at St. James Park.
As part of the tour, Olympic gold medal-winning ice skater Kristi Yamaguchi and former 49er cornerback Eric Wright, a four-time Super Bowl champion, will host a story time and sign autographs.
The tour also includes a science, technology, engineering and mathematics exhibition to show how the four different fields intersect with football. The event also features activity hubs where people can find live music, food trucks, hydration stations and bike repair services.
Animals will be brought out from Happy Hollow Park and Zoo, a small library will also be available downtown and yoga classes will be offered at St. James Park, Solis said.
Solis hopes the event will break down stigmas people have about certain neighborhoods and built city pride and civic engagement, he said.
Similar events have been held locally in San Francisco and internationally in places such as Columbia and Guadalajara, Mexico, Solis said.
San Jose is a large city with a rich diversity of neighborhoods people rarely explore, Velazquez said.The route covers Little Saigon, which has one of the largest Vietnamese communities outside Vietnam, Velazquez said.
A "historic Latino community" can be found at King and Story roads and Calle Willow district, which also has restaurants and businesses some people have never seen, Velazquez said.
People can travel to the event on light rail or buses through the Santa Clara Valley Transportation Authority or take Caltrain to the San Jose Diridon station, VTA spokeswoman Stacey Hendler Ross said.
Attendees can also get to the event along the Guadalupe River Trail and exit West Julian Street, West San Fernando Street or Willow Street, Ross said.
Copyright BAYCN - Bay City News