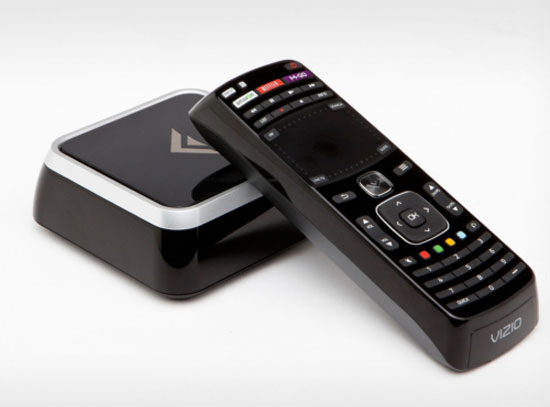 We thought Google TV died last summer. Apparently nobody got the memo because the second wave of Google TV boxes are launching this summer. Continuing its attempt to dominate the home, Vizio just unveiled its own affordable Google TV set-top box that looks to pack quite the wallop.
Maybe you've got a Smart TV. Maybe you don't. The fact remains: 53 percent of Smart TVs aren't even connected to the Internet. That's a tragedy. But then again, maybe it's not, considering how most Smart TV interfaces are clunky and slow.
Google TV was supposed to fix that. But it didn't because the set-top boxes were way too expensive (Logitech's $300 Revue anyone?) and the OS took forever to get a decent library of apps.
The Vizio "Co-Star Stream Player" aims to give your HDTV (Smart or not) a boost without breaking your wallet. For $100, you'll get an attractive little box that provides access to thousands of apps, full Google Chrome with Flash and a variety of streaming content services such as Netflix, Amazon Instant Video, M-GO, YouTube, iHeartRadio, etc.
There's also OnLive cloud gaming (if you're into that), so the Co-Star is more than just a box to play Angry Birds on. You'll have to supply your own controller, though.
Each Co-Star box also has a USB port, 1080p HD video over HDMI, 802.11n Wi-Fi. A Bluetooth remote with a QWERTY is also included in the box.
Compared to Sony's new NSZ-GS7 (I thought we were done with these insipid model numbers) Google TV box that launches this July for $200, the Co-Star is a steal.
Vizio says pre-orders for the Co-Star will begin in July. If you've been holding out on a solution to give your HDTV some brains, the Co-Star looks to be the perfect match.
Via PR Newswire
Copyright DVICE - DVICE