This New Year all Santa Clara VTA riders can expect to see some changes.
Starting Jan. 1, 2018, VTA will be implementing new increased fares for adults, free two-hour transfers, lower youth fares and expanded hours of services.
According to VTA, their new fare policy will change adult fare from $2 to $2.25 per ride and youth fares will drop from $1.75 to $1 per ride. Other fare changes include day passes increasing from $6 to $7, monthly passes increasing $70 to $80 and more.
The new fare structure comes with free transfers for two hours between VTA vehicles for riders using Clipper cards. The only exception to this new change applies to Express bus trips, where free transfers will only be valid between two Express buses.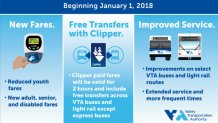 As a part of the new Transit Service Redesign, VTA will be improving and expanding their hours of service. According to VTA, light rail 902 (Mountain View to Winchester) will increase from 30 minutes to every 15 minutes during the week.
VTA plans to have more changes to go into effect once VTA's BART Silicon Valley Extension begins which is anticipated for June 2018. By then, commuters can expect to have new maps and time guides.